IT was another disappointing week for the wool market, albeit with some better signs as the sale series progressed.
All commodity markets appear reactive to general noise and rumour, although most soft commodity pundits suggest the cycle still has a negative bias, the week finished on a positive note.
Grains and cotton were positive on the markets, rallying on the passing of the US debt ceiling and rumours of a new Chinese economic stimulus package.
The forward wool markets traded once again on light volume at relatively unchanged levels from last week. Trades in June were executed at cash with buyers and sellers happy to get some certainty in their nearby positions.
The New Year traded for the first time in a few weeks, with sellers happy to lock in a little insurance at a 20-cent premium to spot. A little more activity came from the sell side, with growers looking for a most premium over spot for the finer microns. The 21 micron contract is offered flat to the current cash at 1350 cents — the midpoint of its trading channel for the last two years.
Exporters are yet to unearth significant interest offshore for the Spring, leaving the bid side rather bare.
With logistical cycle time still frustratingly slow, we will hopefully see new orders begin to appear in the new season.
Next week, we are likely to see the spot market continue to try to find support. With around 35,000 bales on offer and no western sale, hopefully that support will be forthcoming. A significant end of season rally is unlikely without a substantial sentiment change from China.
This week's trades
June 19.5 micron                                                          1450 cents                           5 tonnes
June 21 micron                                                               1350 cents                         10 tonnes
January 2024 19 micron                                               1550 cents                           5 tonnes
Total 20 tonnes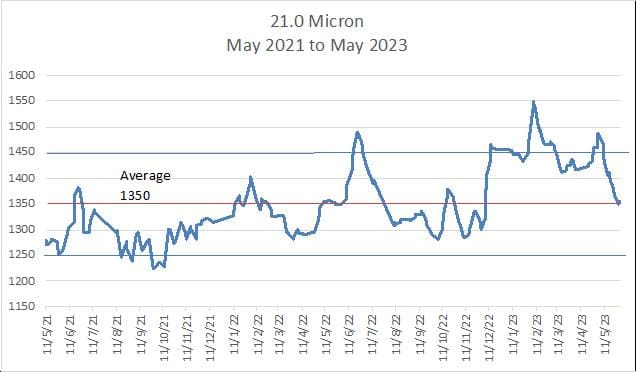 Source – Southern Aurora Markets.