Strong December markets are a regular feature as pointed out last week, but in a year of constant upheaval nothing should be taken for granted.
The chart below illustrates that this year has franked and even exceeded that trend. This week added another 2-3 percent to spot prices even with an erratic Australian dollar that surged higher prior to the start of auctions.
Forward trading spread across the microns and out to the spring of 2023. Bidding throughout 2024 lifted 2.5pc for 19 micron with growers able to trade for 1-2 years out at 1600 cents. Levels for long date maturity haven't been available since June.
The auction markets closed for the year with 19 micron at 1669 cents and 21.0 at 1456. Both were above their year averages of 1650 and 1307. The significant charge has been the recent closing gap between the prices.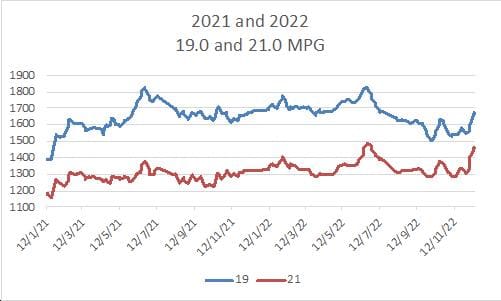 This change in the difference (basis) is illustrated in a longer-term chart below. That difference that had recent peaks in June of 450 has been coming down along with the outright prices. The recent price recovery has seen the basis stabilise around 200 cents which is closer to the long-term average.
This is something that needs to be taken into consideration when looking at hedging opportunities into 2023 and 2024.
We take this opportunity to wish everyone happy and safe festive season. The year has finished on a positive note considering all the hurdles that have been put in front of participants right along the pipeline. Our thanks needs to go to all those who have championed the virtues of the world's best natural fibre.
We are looking forward to a prosperous New Year and the launching of the new risk management course on the Wool Learning Centre.
Trades this week
January 2023                                    19 micron                           1600/30 cents                   10 tonnes
January 2023                                    21 micron                           1405 cents                        14 tonnes
April 2023                                          19 micron                           1560 cents                            5 tonnes
May 2023                                          19 micron                           1560 cents                            5 tonnes
January 2023                                    21 micron                           1300 cents                            5 tonnes
September 2023                              21 micron                           1375 cents                            5 tonnes
Total 34 tonnes