FORWARD wool markets stayed dormant in another difficult week for spot auctions at the start of the new season.
This was not unexpected, but unwelcome just the same, as most commodities have battled over the last months, while wool has held up against the global headwinds reasonably well until the last fortnight.
This is highlighted in the chart below, illustrating a reversal in the direction of the wool-cotton ratio continuing, notwithstanding the outright decline in the Eastern Market Indicator (EMI) over the last four auction days.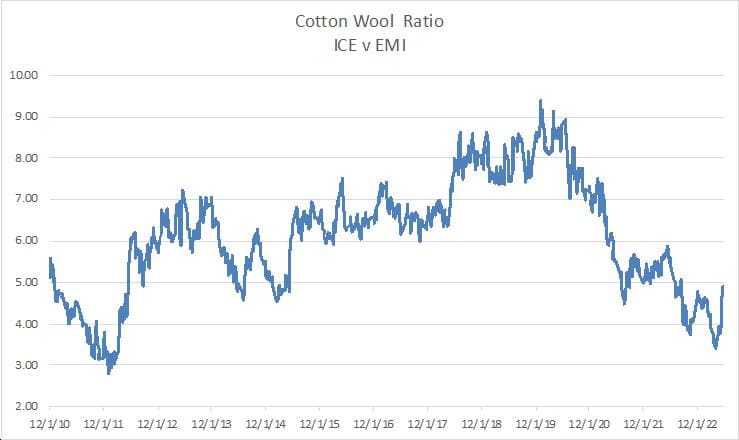 The forward markets remain dormant with buyers retreating from the market, while they battle to support the spot auction coping with sluggish demand and increasing supply. The September 19 micron traded at 1685 cents, off its highs of 1750-1760 cents recorded in a few weeks ago.
The next week sale ahead of the three-week recess will again stretch demand resources. The above graph shows that the market is following last year's pattern. A peak in late June (1829) followed by a fall that found support just above 1600 cents. The current drop is swifter, probably due to poorer macro-economic influences than last year, but hopefully it will also find support within the band that has bound the market after the initial pandemic influences.