FORWARD wool trading improved last week as the spot auction market performed strongly, helped by a weaker Australian dollar.
The AWEX Eastern Market Indicator rose to 1302 cents/kilogram clean, up one percent or 13 cents, the first double digit rise since early February.
Medium Merino 21 qualities (20 and micron) fared the best, rising 2pc.
The market has been in the doldrums for three months with periods of poor demand followed by weak and short-lived recoveries that have led to prices falling around 10pc from their highs.
The forward markets reacted with bidding getting ahead of the spot market as confidence rose that support levels might have been found. July traded with premiums for the 19.5 micron contract at 1600 and for the 21 micron contract at 1440 cents. As the week progressed, medium wools outperformed the finer wools, but this was not reflected in the forward bidding.
Current bidding for May and June has 19 micron at 1670 cents (35 cents over cash) and 21 micron bid at 1460 cents (5 cents over cash). The chart below tracks the difference between 19 and 21 microns since 2010. With the medium wool supply declining, basis dropped to its lowest point (177 cents) in almost two and half years. Near-term bidding is suggesting support at and above this level.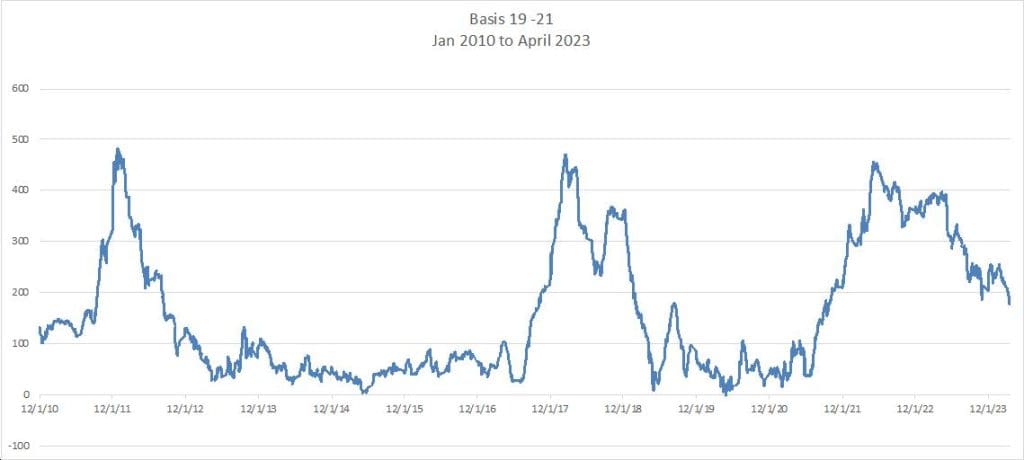 With 44,000 bales on offer this week, it is hoped that this rally can break trend. No rally this year has lasted more than four selling days. As with most things timing is everything. A continued positive spot auction could deliver some good hedging opportunities.
This week's trades
July 19.5 micron                                                 1600 cents                          5 tonnes
July 21 micron                                                    1440 cents                          5 tonnes
Total 10 tonnes