FORWARD wool market traders retreated as this week's auctions opened with the largest single day fall since the first day of the season.
All qualities dropped between 2 and 4 percent, reversing almost 80pc of the previous rally.
This volatility is mirrored across several commodities. Concerns around sluggish demand triggered by China's continued COVID Zero policy and the spectre of intermittent lockdowns has the market perpetually looking for direction.
The chart below illustrates how the 19 MPG having broken out of the 18-month trading channel between 1600 to 1800 cents last month had a recent attempt to re-establish thwarted this week. Technically analysts would see this as a critical juncture. A break below 1500 cents is now a possibility.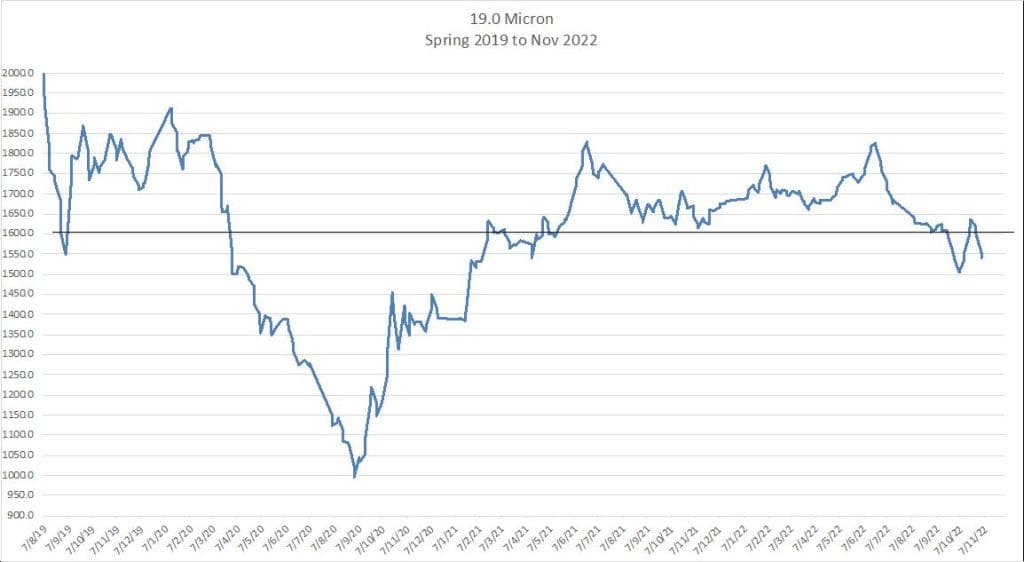 On the forward market front buyers retreated in line with spot auction. The only trade for the week was in the nearby with 19.5 micron contract trading in late November at 1455 cents. Cash closed at 1458 cents.
Sellers appear to be reluctant to meet the market in either forwards or physical. Sell target levels on the forwards remain around the previous support levels of 1600 cents for 19 micron and 1300 cents for 21 micron. Some auction passed-in rates exceeded 20pc.
If searching for the silver lining amongst the clouds (and rain) we only need to look at the recovery in the international cotton market. ICE cotton futures have gained over 10pc in the last three days from a low of US72 cents to US82 cents, hitting a two-week peak due to renewed demand optimism.
The wool to cotton ratio, as illustrated it the chart below, remains very volatile but is tracking within the lower range of the past decade. Hopefully, the speculative optimism flows through to the wool market, but specific demand signals are yet to appear.
The smaller offering of 36,000 bales next week will still need support to arrest the direction. Forward levels will likely still be at a discount, around 20 cents under cash, in the nearby window which lines up with the current momentum.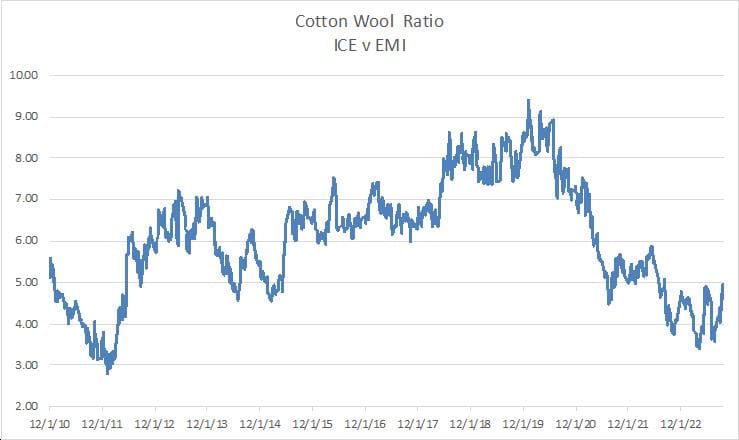 This week's trades
November 19.5 micron                                 1455 cents                         5 tonnes
Total 5 tonnes
Source – Southern Aurora Markets.