FORWARD wool trading was light and physical auctions opened with great expectations in a mixed week for the markets.
With the US dollar off nearly 3 percent since last week, the auction market opened 1pc higher, but only wools finer than 18 micron were able to hold their momentum.
The forward contracts once again traded in light volumes and this was restricted to the early months of March and April. This contrasted with last week, where interest was focused from the Spring into the Summer.
The steady close to the auction bought forward bidding back, especially into the Autumn months, Summer and the New Year. The forward curve lifted, returning to flat through Autumn, but with little interest into the early Spring.
Forward premiums return in the early Summer at 20-30 cents on 19 microns, extending to 30 to 40 cents for the first half of 2022. The 21 micron contract follows a similar pattern.
The forward market has now been flat to a premium since the spot low of September. The difference now is the premium curve now extends out 15 months, although a little patchy through the Spring on anticipated supply. New Year forward prices remain solid with 19 micron bid January to June at 1610 cents (spot 1572 cents) and 21 micron at 1300 cents (spot 1276 cents).
Buyers appear to be comfortable to hedge forward at levels approaching the two-year average, particularly at the finer end.
There is some concern around the weakness in the general commodity prices. Cotton fell 4.5pc (limit down) yesterday. The relationship to wool has widened, with the ratio of the AWEX Eastern Market Indicator to cotton pushing out from the post-Christmas average of 5.15 to 5.65. This is a level not seen since November.
The relationship is volatile, having slipped below 3 at the start of the decade to over 9 in 2019. What is more concerning is the indication of dull trading and demand conditions in the sector, with export sales in the US down 38pc.
As we lead into the Easter recess, we anticipate a continuation of current support levels giving growers opportunity to secure hedge positions prior to the break.
This week's trades
March                                                1555/1560 cents                              10 tonnes
April                                                    1560/1585 cents                              20 tonnes
Total 30 tonnes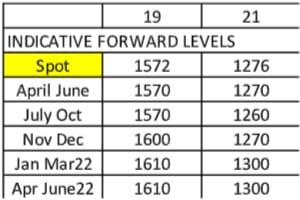 The charts below update the current situation. Referencing the 19 micron indicator, volatility has dropped and prices seemed to level finding resistance over the 1600-cent level, peaking at 1632 cents before falling back to 1565 cents.