"When you're at the end of your rope, tie a knot and hold on" Theodore Roosevelt.
FORWARD markets struggled to encourage board interest as the weight of poor macro-economic news continued to impact the commodity markets.
The 'whatever it takes' message from the central banks to lower inflation translates to much slower global economic growth, weaker demand and lower prices.
This played out in the spot wool auctions in Australia this week, with most Merino types falling 1 to 2 percent for the week. The 19 micron and finer wools were most affected.
Forward wool buyers sat on the fence to start the week and found little encouragement with auction levels continuing to slide and offshore interest difficult to find. Sellers seem to be in no hurry to change their levels, content wait as prices look to breach the downside of the trading channel established over 18 months since the initial COVID impact.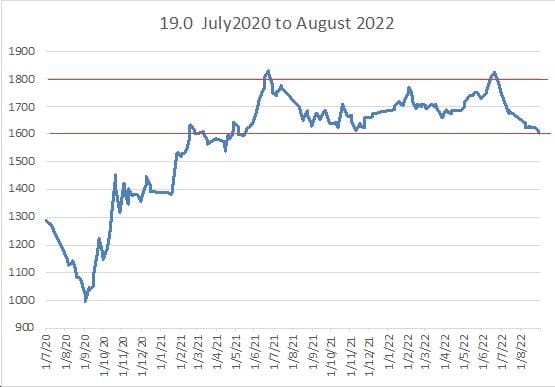 Seasonally, August is a testing time for the wool market. This year will be particularly challenging as the heavy lifting will have to be taken on by origins other than China, which is coping with a weakening economy and threats of further COVID shutdowns.
While it is difficult to see a sustained break to the upside, the forward market seems to indicate first tier support around 2pc below current cash rates. The 19 micron contract is bid at 1580 cents against a closing auction price of 1605 cents for September and October. New Year levels are a further 2pc discount at 1550 cents. Similar discounts prevail for 21 micron for September/October bid at 1295 cents and New Year at 1250 cents.
Source: Southern Aurora Markets.