FORWARD wool markets remained well bid and trading at a premium to cash into the Spring, when a spot market base was set after a weaker than expected opening in auctions on Tuesday.
Prices in Australian dollars steadied into the auctions' close on Thursday. When the dust settled superfine wools (17 and 18 micron) had lost 20 to 30 cents for the week, while the 19 to 20 micron wools finished firm and the 21 micron wool had gained 20 cents.
Crossbreds remain range-bound as they have for all the season, currently sitting below their average price for the last 12 months.
Forward buyers continued to show willingness hedge into Spring and through to the New Year. The 19 micron contract traded in December at 1750 cents (cash 1754 cents), the 21 micron contract traded at 1320 cents in September, at 1350 cents in October and at 1340 cents in January (cash 1318 cents). Crossbreds traded for 28 microns at 520 cents, 10 percent over their closing quote of 471 cents.
We expect the final sale to indicate a cautious approach from buyers as they move into the end-of-season recess. A need to fill orders will be balanced by a reluctance to carry stock into the break. Forwards hopefully will maintain their premiums and buyers and sellers will find satisfactory hedging levels.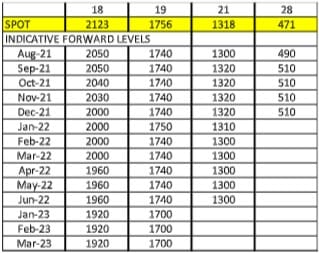 This week's trades
Aug 28 micron                                                 520 cents             5 tonnes
Sept 21 micron                                             1320 cents              5 tonnes
Oct 21 micron                                              1350 cents             2 tonnes
Dec 19 micron                                              1750 cents             4 tonnes
Jan 21 micron                                               1340 cents             5 tonnes
Total 21 tonnes