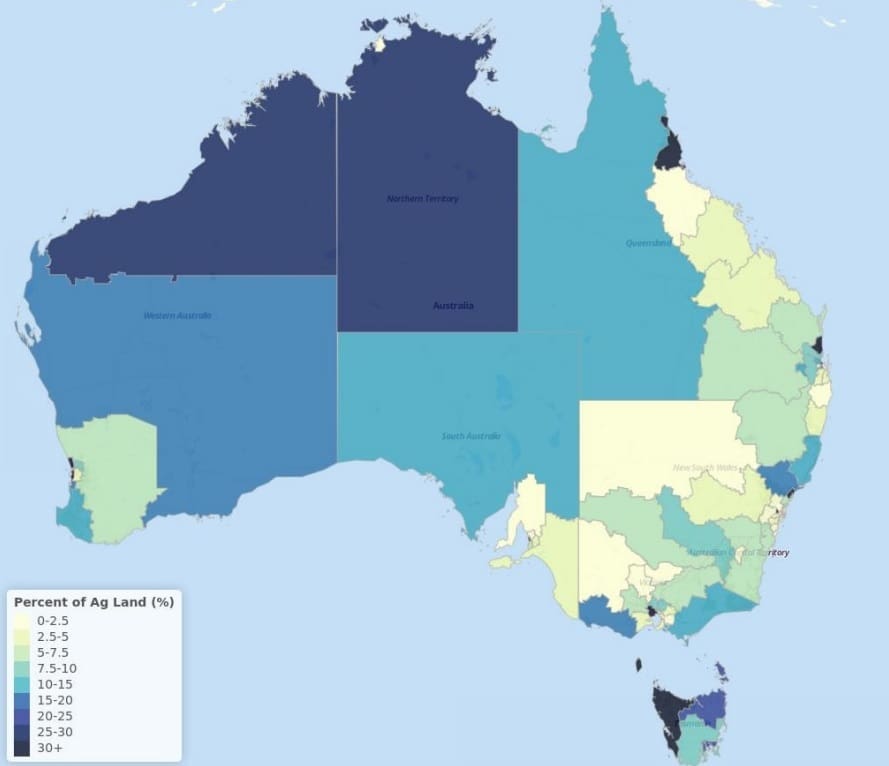 THE area of Australian agricultural land held by foreign interests for livestock production declined modestly during the 12 months ended June 30 last year.
While there was a small increase in the area of cropping land held wholly or partially by foreign interests, livestock land area declined, when compared with the previous 12 month period.
The annual foreign land ownership summary released by the Australian Taxation Office today shows there has been only minor changes to the proportion of farmland owned or partially owned by foreign interests.
For the purposes of the analysis, 'foreign owner' is defined as entities with foreign ownership of 20 percent share or more of an asset, which means there may be a significant portion of Australian equity in those same parcels of land.
The total area of agricultural land with a level of foreign ownership has fallen from 52.6 million hectares at 30 June 2018 to 52.1m ha at the end of June last year, or 13.8 percent of the total agricultural land using the ABS measure of total agricultural land area.
The level of foreign interest in agricultural land has remained relatively stable over the past four years. As the table below shows, it reached a high in 2015-16 before declining a little over the following two years. A change in the calculation of overall agricultural land area has made the percentage figure in the most recent assessment slightly higher than previous reports.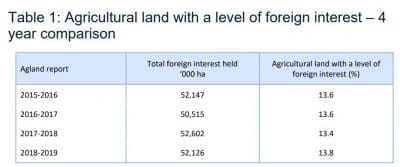 As the table below shows, overall there has been a 0.9pc reduction in agricultural land with some level of foreign ownership.
More than 85pc of foreign owned (and partially owned) land is used for livestock, with cropping accounting for just 3.4pc, and forestry, 2.6pc. An 'unreported' category accounted for a further 6.1pc.
Foreign ownership was heavily concentrated in the northern half of the continent. Queensland accounted for the largest area of foreign owned land (30pc), followed by the Northern Territory (27.5pc) and Western Australia (26pc). Other states represented far smaller areas, including South Australia (9.5pc) NSW (less than 5pc), Victoria (1.2pc) and Tasmania (0.7pc).
Around 83pc of agricultural land with some foreign ownership was held on a leasehold basis.
Aggregating total freehold and leasehold foreign ownership interests, China and the United Kingdom each have ownership interests totalling 2.4pc), followed by the Netherlands (0.7pc) and the US (0.6pc). The tax haven of the Bahamas ranks third on the list of leasehold land owners, well above Germany, Switzerland and Canada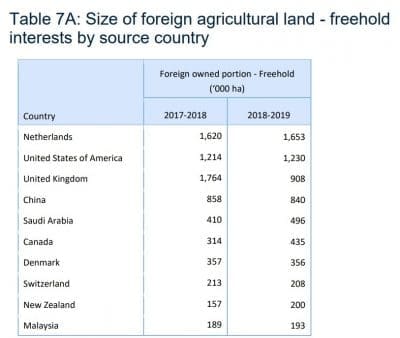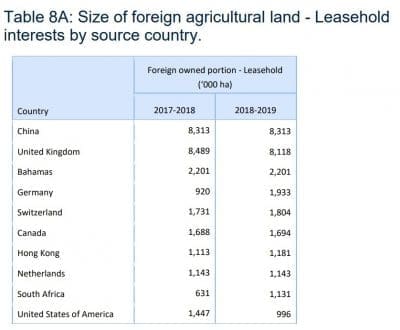 There were several large transactions which altered agricultural land interests by country of ownership for agricultural land in 2019. Notably, UK investors reduced their total foreign ownership interests by around 1.2m ha, while China's overall interests were marginally lower (down 18,000ha).
The changes in agricultural land interests by country of ownership compared to 2018 can be attributed to:
New registrations of acquisitions of agricultural land that have settled since the previous 2017-18 year report
Agricultural land that has been sold to Australian entities and has been removed from the register. Given that there have been some very large examples of previously foreign-owned land returning to Australian hands in the past eight months, next year's report is like to show larger downwards movements in foreign landhholdings. For example, the 705,000ha Wollogorang and Wentworth Stations in Queensland's Gulf country – owned by Chinese businessman Xingfa Ma for the past four years – were sold back to Australian interests in February this year. That sale alone will have a substantial impact on next year's statistics. In July last year, Chinese-owned Rifa Salutory announced plans to sell its 44,000ha Australian grazing and faming property aggregation across northern NSW and Victoria. Some sales have already been completed.
Agricultural land that has been sold to other foreign entities with a different foreign country of ownership
Foreign entity restructures which have resulted in a change of the foreign entity's status as a foreign person.
Key findings on a state and territory basis:
There were increases evident in the area of agricultural land with a level of foreign ownership in Western Australia (up 1.1pc or 156,000ha), New South Wales (up 0.2pc or 4000ha) and South Australia (up 0.2pc or 10,000ha).
Decreases were seen in Victoria (down 6.4pc or 42,000ha), the Northern Territory (down 2.3pc or 330,000ha), Queensland (down 1.7pc or 268,000ha) and Tasmania (down 1.7pc or 6,000ha).
The 'foreign interest %' is the ratio of agricultural land with a level of foreign ownership to the total of agricultural land for each state and territory.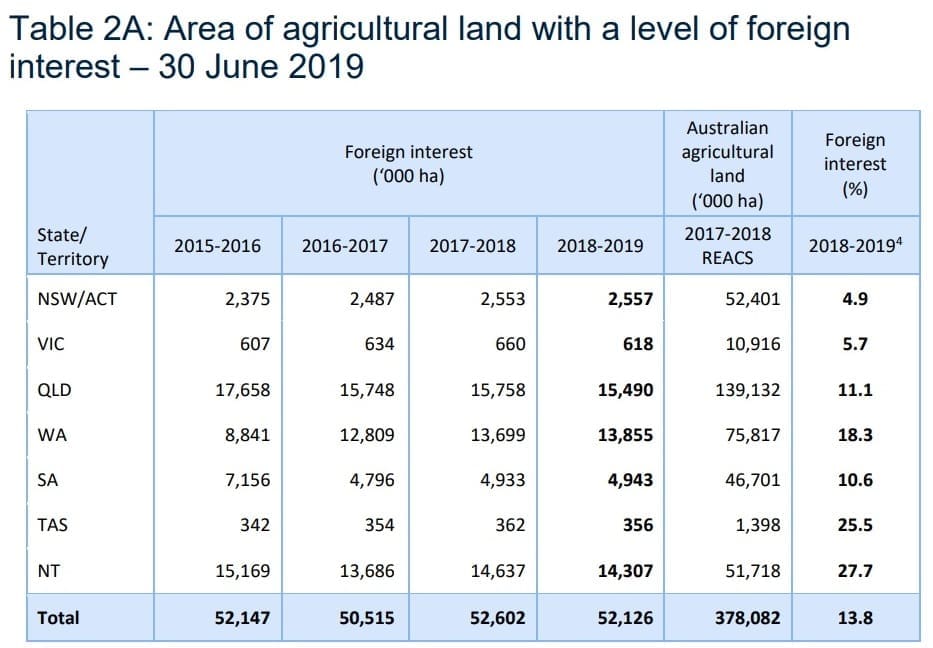 The number of properties held (as distinct from land area) by foreign interests has grown by 3.8pc since 2017-18, despite the fact that overall land area has declined. Biggest increases were seen in NSW, up 7.8pc to 2386 parcels of land, the Northern Territory, up 4.9pc to 85 properties and Queensland, up 4.5pc to 1543.