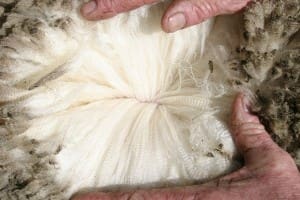 WOOL prices are expected to increase 6.9 percent in 2016-17, according to National Australia Bank.
In NAB's November Rural Commodities Wrap, the bank's analysts said the higher prices are forecast to offset lower production in 2015-16 and provide some production incentive to wool growers in 2016-17.
The value of Australian wool exports is forecast to increase 5.9pc in 2016-17. NAB said confidence returned to the wool industry this year following several years of unfavourable prices. The moderate price upturn enjoyed by wool producers has stabilised more recently on the continued strength of the Australian dollar, which has put a brake on the price rally. The bank's analysts said wool is quite sensitive to movements in the dollar; however, the recent downside break may presage more favourable currency conditions in the new year.
"The Eastern Market Indicator rose 1pc in October but has been flat so far this month.
"We forecast that prices will increase 6.9pc in 2016-17."
NAB lamb assessment 'upbeat'
The bank said the Australian lamb industry continued to enjoy broadly favourable conditions, and it remained upbeat in its assessment of the industry.
"The seasonal spring price fall came later than normal as producers took advantage of a wet spring to rebuild flocks after some years of elevated slaughter.
"While prices have now fallen to slightly higher than the same time last year, the trend since 2012 remains positive," the bank said.
"We expect stable to moderately higher prices into next year, continuing the good run since 2013."
NAB said export markets for lamb are reasonably diversified, with the US and China accounting for a substantial volume. However, the Middle East remains a very important market, particularly for mutton and live sheep.
NAB Rural Index lower
The NAB Rural Commodities Index down in October and November, with a continued resurgence in dairy unable to fully offset lower grain, meat, and sugar prices.
The index has since fallen 1.1pc in October and 4.4pc in November in Australian dollar terms.
NAB has increased its wheat production forecast to 29.4 million tonnes for the 2016-17 season, just shy of the 2011-12 record and 21.7pc higher than last season. However, prices are at 10-year lows on global markets and heavy spring rainfall has impacted quality in some regions.
Dairy has continued its recent resurgence, with the NAB weighted dairy export price indicator up 12.2pc in November.
NAB is forecasting a 51.2pc increase in cotton production in 2016-17, leading to a predicted 44.7% increase in export value.
Cattle prices continue to fall, with the EYCI now in the mid-640s, back from the peak of almost 726AUc/kg reached in mid-August.
Global sugar prices have dipped, declining 7.9pc in November. However, the trend remains positive for the year, suggesting better returns for growers, the bank said.
The latest commodity price movements are available in the November Rural Commodities Wrap from National Australia Bank (NAB) Agribusiness.
Source: NAB.