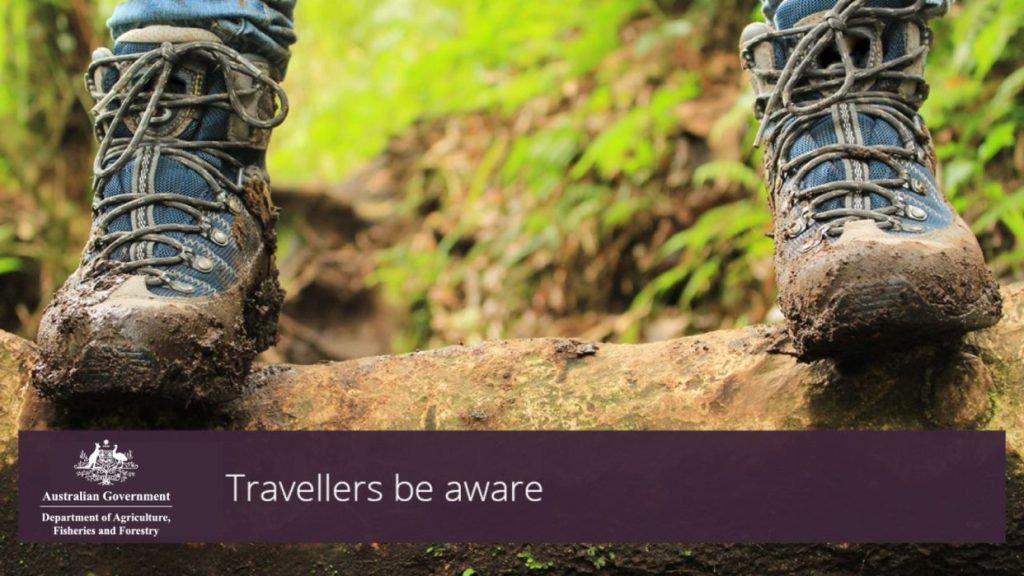 PEOPLE returning from Bali cannot be exposed to the chemicals needed to control viral diseases on foot wear like Foot and Mouth Disease, according to the Federal Government.
NSW Farmers president James Jackson last week criticised government officials for being 'wishy-washy' on biosecurity controls such as foot baths.
Mr Jackson said while federal Agriculture Minister Murray Watt had beefed up some biosecurity controls after pressure from farming groups, his department was looking for excuses.
"The Department of Agriculture, Fisheries and Forestry says they can't have antiseptic foot baths at airports because a child might fall in them.
"Well by that rationale they should get rid of detector dogs in case a child gets bitten, or stop selling coffee in case a child gets scalded," Mr Jackson said.
"It appears to me that everyone but the department is taking this seriously, and it's time they got on with the job of keeping Australia safe from FMD."
A department spokesperson told Sheep Central that footbaths to control viral diseases usually use Virkon® a powerful chemical which causes skin, eye and respiratory tract irritation.
"Footbaths to be effective usually need to be deep enough to cover the foot and need to be regularly replenished when they become contaminated with organic material such as soil and manure from footwear.
"Passengers arriving from Bali often are not wearing enclosed footwear and cannot be exposed to a chemical such as Virkon® on bare skin (if they are wearing thongs, flip-flops, sandals) or soaking sandshoes and socks," the spokesperson said.
"There is an occupational and workplace risk of trip hazard, having children trip or fall into the bath, placing the baths in busy international air terminals.
"However, the need for like measures is a matter of ongoing investigation as to their merit in managing the risk."
Farmers are concerned about the FMD outbreak in Indonesia as the highly-infectious virus could cost Australia $80 billion if it got onto the nation's cattle, pork and sheep farms. Export market access would be lost, animals would be destroyed, and entire parts of the supply chain would be at a standstill if FMD made its way to Australia, NSW Farmers said.
"If we get FMD in Australia it will cost us $80 billion – more than the JobKeeper program – and send us hurtling towards recession," Mr Jackson said.
"A little inconvenience at the airport to prevent such a huge threat to our economy and our farming sector is entirely sensible, and it's important people realise the gravity of the situation.
"We cannot rely on treatment alone with FMD – prevention is the only way to keep us safe," he said,
VFF FMD webinar on Thursday
A FOOT and Mouth Disease webinar discussing current preparedness measures will be held by the Victorian Farmers Federation on Thursday 14 July.
The webinar on Thursday 14th July 2022 at 7pm (AEST) follows the emergence of Foot and Mouth Disease (FMD) in Bali.
The focus of the webinar will be on current measures being taken by the Commonwealth and Victorian governments to address biosecurity preparedness in the event of an FMD incursion.
The webinar will be facilitated by VFF president Emma Germano and will feature presentations by Dr Chris Parker, head of the National Animal Disease Taskforce, Commonwealth Department of Agriculture, Forestry and Fisheries (DAFF) and Dr Megan Scott, principal officer – emergency animal disease, Chief Veterinary Officer's Unit (CVO), Agriculture Victoria.
Click here to register for the webinar.