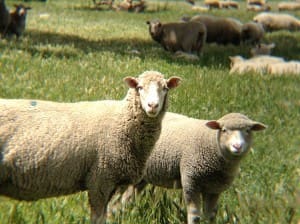 Victoria's Department of Environment and Primary Industries (DEPI) is advising sheep producers to prepare for a heightened risk of flystrike this summer.
DEPI's Statewide Veterinary Officer, Dr Robert Suter, said flystrike is a significant cause of lost production and welfare concern in the sheep industry.
"The major fly responsible for flystrike in sheep is the green blowfly, Lucilia cuprina, and accounts for approximately 90 percent of flystrike cases.
"Sheep producers must carefully assess the susceptibility of their sheep, watch weather conditions and check for the presence of flies," he said.
"Flytraps may be of benefit in monitoring for presence of Lucilia cuprina."
Dr Suter said sheep should be monitored more regularly and closely during danger periods following summer rain events.
"The summer rain can provide ideal conditions for flystrike.
"Ideal conditions exist when there are combined factors present," he said.
These include the presence of susceptible sheep, temperatures greater than 17 degrees and wind less than 30km/hr (stiff breeze).
"Susceptible sheep may be those with fleece stain (urine, faeces), or be close to shearing, or have either fleece rot, lumpy wool (or dermo), wounds, abscesses, grass seeds, lice, footrot, poll wool or wet wool.
"Controlling scours and correctly timing crutching and shearing will reduce susceptibility."
Dr Suter said timely use of appropriate preventive applications to a flock and spot treatment of affected sheep will reduce incidence of flystrike.
"Plan how spot treatments or emergency mustering will be done.
"Producers should be aware of the risk of residues in wool and meat products and take into consideration the relevant Withholding Periods (WHP) that may apply."
Dr Suter said WHPs will vary for different chemicals and can also differ from the Export Slaughter Interval (ESI). Producers are legally required to maintain records when treating livestock with veterinary chemicals that have WHPs.
When completing National Wool Declarations, National Vendor Declarations and Sheep Health Statements you may need to refer to your records of chemical used.
For further information, please contact your local veterinarian or DEPI Veterinary or Animal Health Officer, or in NSW your Local Land Services.