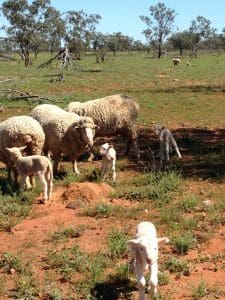 Queensland sheep and wool producers have been advised they need to get the right ewes, on the right feed, to successfully raise lambing and weaning rates as the State's flock rebuilding starts in earnest.
Sheep and wool advisor Geoff Duddy from Sheep Solutions is a consultant that has shared his expertise at Leading Sheep webinars and workshops on a range of industry issues.
Leading Sheep is the extension program co-funded by the Queensland Department of Agriculture and Fisheries and Australian Wool Innovation Ltd with support from AgForce.
Mr Duddy said with increased funding available for predator control fencing, Queensland producers were considering how they might increase their sheep numbers.
He said with sheep meat prices on the rise producers were repeatedly asking him the key to lifting reproduction rates.
Producers needed to look at genetics, nutrition and management, which were all readily influenced at property level, if they wanted to improve lambing and weaning percentages.
Ewe efficiency is also a critical part of the production equation.
"To start making gains in reproduction rates producers need to identify and cull the ewes that aren't raising lambs – it's commonly accepted that upwards of 30 per cent of ewes are responsible for 60 per cent of lamb losses," Mr Duddy said.
Nutrition also plays a vital role in reducing both ewe and lamb mortalities.
"Worryingly, most lamb deaths occur within the first few days of birth and of those surviving up to 80 per cent of weaner mortalities occur in the lightest 20 per cent of lambs," Mr Duddy said.
"Most lamb deaths are due to dystocia (difficult births), starvation/mismothering and, in Queensland's case, predation.
"Producers have to match feed with a ewe's needs, and continue to undertake strategies to reduce lamb loss due to predators, if they are to reap the benefits as we look to rebuild our national sheep flock."
When it came to nutrition, Mr Duddy said, success hinged primarily on paddock selection and some form of supplementary feeding during late pregnancy, particularly within twin-bearing ewe flocks.
He said genetics also had a role in terms of selecting sires/breeding ewes that were inherently more resilient due to their genetic fat and eye muscle status.  Under poor feed conditions greater genetic fat, for example, can improve conception rates, lamb survival and weaning rates.
"In my opinion scanning is a critical management strategy but it is underutilised within western Queensland," Mr Duddy said.
"Improving twin born lamb survival is the quickest way to improve profitability, while reducing production costs. How we use this information once ewe pregnancy status is identified will impact on overall lambing success.
"Monitoring and maximising twin-bearing ewe body condition score, between scanning and lambing could significantly improve production, efficiencies and animal welfare outcomes."
Overall Mr Duddy said getting genetics, nutrition and flock management right was a complex task, but there were elements producers could readily influence on-property.
Three tips for better production efficiency:
Identify and cull ewes responsible for lamb losses.
Scan and identify single and twin bearing ewes so feed regimes can be adjusted to meet rising nutritional requirements.
Increased use of Australian Sheep Breeding Values (ASBV's) within merino-based systems in particular with greater focus on growth rate, fat and eye muscle benefits to a self-replacing enterprise.
Source: Queensland Department of Agriculture and Fisheries