STORE sheep and prices generally fell further in online sales last week, despite the AuctionsPlus offering dropping 13 percent to 84,228 head.
AuctionsPlus said it was the second consecutive weekly decline in offering following the very high throughputs in the first two weeks of February.
Overall, prices were lower despite the contraction in supply, with the average prices of nine of the 14 sheep and lamb categories declining.
AuctionsPlus said the consistent weekly markets and absence of holiday disruptions through February helped to provide a clear indication of the level of confidence within the market.
"Overall sentiment, while still very strong, is clearly anchored to a rebuilding slant, with the absence of prime breeding stock through the market accentuated in recent weeks.
"This growth sentiment also links to the sustained positive seasonal conditions heading into Autumn, with the latest rainfall outlook from the Bureau of Meteorology through to May continuing to point to wetter than normal conditions."
First cross ewe lambs, composite lambs and Merino wethers were the only categories to show significantly dearer trends last week. First cross ewes lambs made from $161-$412 and averaged $276, up $26. The top price was paid for 270 unjoined 9-10 month-old early December shorn ewe lambs weighing 56.6kg at Ariah Park, New South Wales.
Wool helps Merino wethers rates
Merino wethers averaged $167, up $16, and sold from $130 up to $194 for 400 four year-old early June shorn Collinsville blood wethers weighing 70.5kgs (est. 26.1kg cwt) at St George in Queensland.
Composite and other breed lambs sold from $147-$280 and averaged $194, up $88.
Merino ewe lambs sold from $115-$292, to average $174, down $35, and the offering of 2874 crossbred lambs sold from $153-$202, to average $174, just $1 back.
AuctionsPlus said the 20pc decline in the number of scanned in-lamb Merino ewes offered online failed to help support prices, with the average price slipping $30 to $239.
"Interestingly, the clearance rate for reported SIL categories continues to be well below many of the other lines, despite the clear desire for suitable breeding lines.
"The 62pc and 59pc clearance rate this week for SIL Merino ewes and first cross ewes, respectively, points to sellers holding firm on the value they have placed upon these lines, as buyers remain hesitant to dig deeper into their pockets."
Unjoined Merino ewes made $124-$354, to average $232, $3 higher, for the 10,850 offered, an increase of about 1000 head.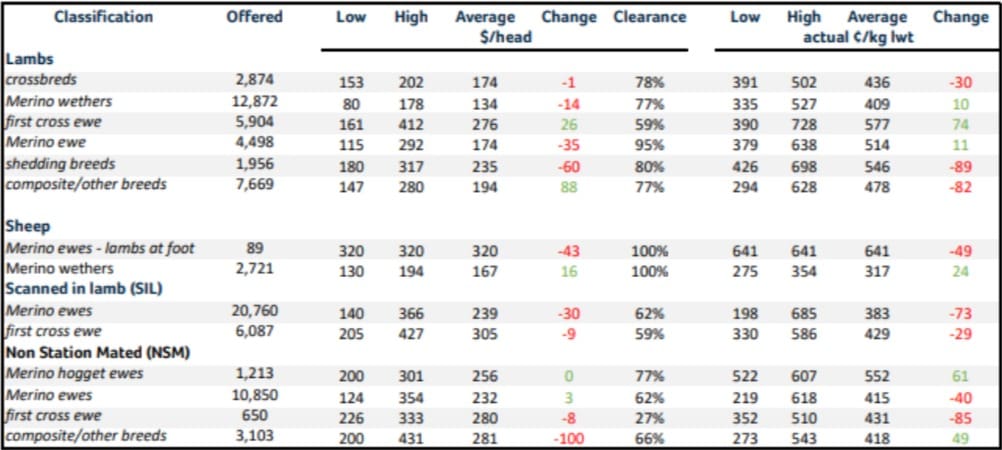 Source – AuctionsPlus.