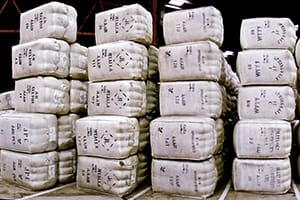 FINE Merino wool prices lifted this week despite general discounting of clips with high mid-staple break readings.
Based on AWEX micron price guide analysis, fine wool prices in mostly Melbourne and Sydney were firm to 20 cents a kilogram higher this week, and 19.5 micron fleece prices rose 9-20c/kg nationally.
Landmark wool supply manager David Brook said it was a somewhat mixed week for the Australian wool market, with prices for medium Merino and for crossbred wool falling but finer microns enjoying gains. He said the large proportion of Merino wool with a high mid-break (position of break in the middle or PobM) contributed to the soft market, but the steady slide in the A$ against the US$ helped support prices.
The Australian Wool Exchange said this week more than half of all fleece wool on offer nationally was carrying a mid-break of 50 percent and above. The PobM is reported as the percentage of staples by weight which break in the middle third of the staple.
"With such a large percentage of the offering possessing these unfavourable results, discounts are inevitable and that is exactly what is transpiring.
"The discounts for these wools continue to grow as buyers struggle to average them into their purchases," AWEX said.
Mid-break discounts up to 80c/kg clean
Australian Wool Innovation said in superfine clips, discounts of up to 80c/kg clean are being applied for high PobM readings (roughly 75pc pobm and higher) and up to 50c/kg clean for 19 micron-plus wools.
"The longer (100mm-plus) wools are most affected as they produce a progressively larger CVH percentage (co-efficient of variation in hauteur %) result."
AWEX said with Melbourne the only centre selling on Tuesday this week the benchmark Eastern Market Indicator only took into account the southern region and following a 9-cent fall in the Southern Market Indicator, the EMI dropped by 6 cents to 1519c/kg clean.
On Wednesday, all three centres operated, and the EMI remained unchanged at 1519c/kg after a small rise in Melbourne and a minimal drop in the northern indicator. The Western Market Indicator recorded a 13-cent fall, mainly because of medium microns suffering a 20-30 cent reduction.
On Thursday, only Sydney and Fremantle sold, and the EMI was only affected by the Northern region and following an 8-cent rise in the Northern Market Indicator, the EMI managed a 3-cent lift, closing the week at 1522 cents, an overall decrease of a modest 3 cents, AWEX said.
Brokers passed in 8.2pc of the 39,657-bale national offering. The EMI in US$ terms closed down US30 cents to 1190c/kg, with the A$ down US1.82 cents to US78.21 cents.
AWEX said the skirting market had another up and down week.
"Prices generally fell on the first selling day by 15 to 20 cents, then rose by a similar amount on the second day, to finish relatively unchanged."
AWEX said the crossbred market lost further ground this week, with general price reductions of 10 to 20 cents. Prices for finer 26 micron fleece improved slightly in Melbourne. The oddment sector continued to perform well, with another limited selection keenly contested, pushing prices higher.
US$ buyers major beneficiaries of exchange movement
In its weekly market report, AWI said those buying in US dollars were the major beneficiaries of the week's exchange activity, with the USEMI 2pc lower.
"This reduction was due almost entirely to the US$-A$ forex (foreign exchange) rates being favourably lowered by 1.9pc week on week, rather than the A$ being weak.
"It was the strength of the US$ against the A$ and most other major currencies that produced the significant change."
AWI said the differing public holiday sale schedules across Australia helped the relative stability of pricing, as only Wednesday was loaded up with quantity.
"The wool buyer's approach to the week could be described as cautious as most exporters appear to be operating to careful price sensitive strategies.
"Under this purchase method, it is more the price of inventory intake, rather than volume that is the priority," AWI said.
"Sentiment remains positive and new business is seemingly available in adequate volume to maintain the current market, but the risk appetite profile of exporters to take on forward sales without coverage is low.
"As the industry finances are being stretched, risk taking takes a back seat, as many trading participants predominantly focus on and service their major client's immediate needs," AWI said.
"The aim is to turn sales over safely, even at perceptively low profit margins."
AWI said the current late winter/spring has failed to produce any significant rain across most or Australia's wool-growing areas, so drought conditions continue to worsen daily.
"While the current shearings are producing very nice wool clips, albeit with growing PobM readings, the further we get into the spring/summer shearing, the strength and yield readings are also likely to fall away, but PobM results will get better the closer we get to Christmas/New Year."
Next week, about 40,500 bales are scheduled to be offered.
"Similar operations and sale results to this week are expected as next week is considered the last week which allows fulfilment of September shipment commitments.
"Some minor instability may occur as buyers fill outstanding orders and then reassess their forward positions," AWI said.
Sources: AWEX, AWI, Landmark.