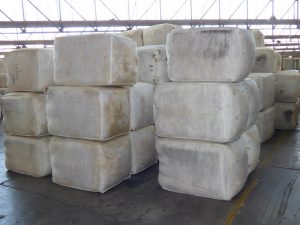 MEDIUM Merino wool prices started to slip this week as recent record auction rates boosted bale offerings.
However, fine wool continued to appreciate in value, with micron price guides for fleece under 16.5 microns gaining 157 cents in Sydney and 100 cents in Melbourne.
AWEX senior market analyst Lionel Plunkett said recent record high prices pushed national auction turnover figures into record territory, with the total auction turnover value this season exceeding $2 billion dollars.
The micron price guides for 20-22 micron wool fell 18-30 cents this week, but the AWEX Eastern Market Indicator finished firm at 1546c/kg clean. Brokers passed in 7.5 percent of the 49,214-bale offering with the $A-US exchange rate at US76.57 cents and the EMI in $US down four cents to US1184 cents.
AWEX chief executive officer Mark Graves said in the 2015-16 season the industry sold wool worth $2.5 billion at auction.
"If we are passing the $2 billion mark now and we've still got 3.5 months left in the year, we will go close to a $3 billion turnover, or a touch over, you would think, if quantity in the market holds up."
Mr Graves said he had seen more wool growers with smiles on their faces at the auctions in the past six weeks than he had seen in the past six years.
Increased offering impact
Mr Plunkett said the increase in quantity may have contributed to the eventual fall in prices this week.
"Wednesday saw significant price rises in the fine micron sector helping to push the benchmark Eastern Market Indicator (EMI) a further 5 cents to close at 1551 cents, another record high.
"Although the market was trending upward buyers became more selective in their purchases and within each micron group it was the stylish/low cvh/high Nkt lots that attracted the greatest competition and hence posted the largest price rises."
Mr Plunkett said towards the end of the selling day prices for lesser types were starting to show irregularity and despite the rise in the EMI, the market indicators for 21 micron and coarser fell by an average of over 10 cents.
"The tone from the end of day one continued from the outset of the second day, buyers continued to be selective and the market started to slide — 18 micron all the way through to 22.5 micron generally eased between 10 and 30 cents."
Mr Plunkett said skirtings closely mirrored the fleece market, with fine wools making large gains for the week, while wools 19 micron and coarser lost ground.
"The crossbred market had a mixed week with 25.0 to 26.0 micron gaining 10 cents while 28 to 30 micron wool lost 10 cents.
"The oddment market had a solid week with most types and descriptions selling at very similar levels to the previous sale," he said.
Bullish buying tempered
Australian Wool Innovation's weekly market report said local traders became more circumspect in their bullish operations mid-week and subsequently the market entered into a drift for all wools broader than 17 micron.
"Many of the larger traders appeared to be more satisfied in their open positions and moderated their inventory intake.
"Chinese indents remained keener, but they too adjusted to the calmer tendency half way through the final day, as buying volume became easier for them," AWI said.
"This eventually impacted on the latter part of the Melbourne selling and flowed through to the Fremantle centre later in the day."
Next week there will be another large national offering, with currently nearly 46,500 bales set to be offered in Sydney, Melbourne and Fremantle.
Source: AWEX.