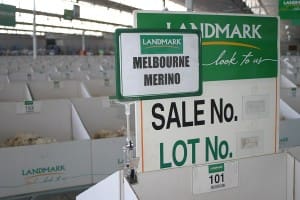 FINE Merino wool prices improved in Australian auctions this week, but crossbred fleece values declined further.
The Australian Wool Exchange said although the benchmark Eastern Market Indicator recorded very little movement, up 2 cents from the previous week to 1568c/kg clean, there was considerable market activity.
"Micron became the major focus for buyers and this was reflected in price movements.
"Most interest was in the finer types, (19 micron and finer), and these types recorded general price increases of between 10 and 40 cents," AWEX said.
"The medium to coarse microns (20 to 23), lacked the same buyer support and continually lost ground as the week progressed.
"These types generally fell by 20 to 30 cents when compared to the previous sale."
AWEX said in recent months the different micron groups have tracked relatively close together, rising or falling at a similar rate. This week as the micron groups tracked in opposite directions the price differentials have once again started to increase.
"The premiums on offer for finer wools are becoming larger, currently the difference between an 18 and a 21 micron is out to nearly 600 cents."
AWEX said the skirtings market followed a similar path to the fleece, with the finer the micron the greater the price rise, generally between 30 and 60 cents.
"Wools exhibiting less vegetable matter, particularly less than 2 percent, also sold very well as buyers looked for fleece substitutes.
"With the focus on micron, it is not surprising that the crossbred sector struggled."
AWEX said the crossbred wool market continued its downward trend, with all types and descriptions generally falling 5 to 25 cents. Better prepared lines found the most support and the smallest losses.
AWEX said the oddment market has continued its run of increases. Another limited selection came under intense buying pressure, although all types and descriptions recorded positive movements, it was the finer types which enjoyed the greatest increases.
Click here for the latest AWEX Micron price Guides.\
Source: AWEX.