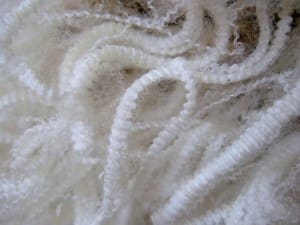 FINE Merino wool under 18 micron and crossbred fleece sold dearer as the auction market generally firmed this week.
AWEX senior market analyst Lionel Plunkett said the market was again led by the finer microns, with the 18 micron and finer wools the only Merino category to record significant rises — generally 10 to 30 cents dearer.
The 18.5 to 19.5 micron fleece were fully firm while a large selection of 20 micron and coarser Merino fleece eased slightly to finish the week 10 to 20 cents off last week's levels, he said.
AWEX's benchmark Eastern Market Indicator lifted 3 cents to close at 1440 cents, with brokers passing in 7.6 percent of the 44,938-bale offering. In US dollar terms, the EMI rose US16 cents to 1112 cents as the $A-US exchange rate rose US0.94 cents to US77.19 cents.
Click here to get the latest Sheep Central story links sent to your email inbox.
Mr Plunkett said buyers continued to favour the high tensile strength low cvh lots and these wools continue to attract healthy premiums compared to similar wools with less attractive test results.
"The skirting market struggled slightly this week to maintain its previous levels, generally falling 10 to 20 cents with the finer better style types least affected," he said.
Mr Plunkett said the crossbred sector continued its move back into positive territory this week, lifting 10-20 cents and with 28 micron wools most-affected. Buyers continue to favour the better prepared lines, with properly skirted wools enjoying the largest price gains.
The oddment sector also had a very solid week, with all three carding indicators rising by an average of 11 cents, Mr Plunkett said. Most types and descriptions had small rises; however, the dwindling selection of washing lambs (<0.3pc) continues to attract very strong buyer interest and were extreme.
Prices resist adverse currency fluctuations
The Australian Wool Innovation weekly market report said prices resisted adverse currency fluctuations and initial reticence by overseas bidders to pay higher levels.
Tuesday was a standalone sale which consisted of a nice selection of Tasmanian wool sold in Melbourne. Most types were in the superfine Merino segment. Prices were all quoted as being dearer for wools finer than 18 micron and slightly off the boil for 18.5 and broader. This proved to be the trend for the rest of the selling week. The Crossbred offering started on Wednesday and it was clear from the outset that all types and descriptions would continue the reversal of their season-long woes.
Unlike the trend in recent weeks with buyers chasing the better wools, this week it was the lower specified lots that were registering the largest of the gains — up to 50c/kg clean. The better types gained just 10-15c/kg clean as those wools were probably slowed down as the Euro weakened against the $A, AWI said. The Merino types of 18.5-22 micron drifted slightly throughout and finished in buyers favour, up to 10 cents cheaper as buyers' prices were trying to match the currency movements of the weaker USD. Another good offering of burry (more than 4pc vm) Merino fleece met very good competition from several exporters, and sold fully firm to slightly dearer across all microns, bucking the cheapening trend of the FNF/LB fault wools in broader types, AWI said.
AWI said crossbred buyers are becoming increasingly wary of clips considered to be under-prepared and in particular those clips prepared to un-skirted lots (D-cert) quality. The markdowns being applied over recent weeks are some of the largest percentage markdowns ever seen in any sector, AWI said. For those wools meeting buyer specifications, all crossbred fleece wool's were upwards of 20c/kg clean dearer by the close. However, crossbred wools are still topping the pass-in rates as some growers continue to resist the levels being offered.
AWI said with about 47,000 bales going to auction in Sydney, Melbourne and Fremantle next week, the foreign exchange rates are on everyone's minds.
"The Australian dollar continues to surprise by forging upward against all major currencies, making life difficult for forward sellers to offer any substantial quantities overnight as by the morning the rate could have moved considerably against them.
"Given the strong resistance, wool prices showed this past week we should fully expect the market to at least hold and maybe gain with the dwindling supplies of Merino types," AWI said.
Click here to see the latest AWEX Micron Price Guides.
Source: AWEX, AWI.