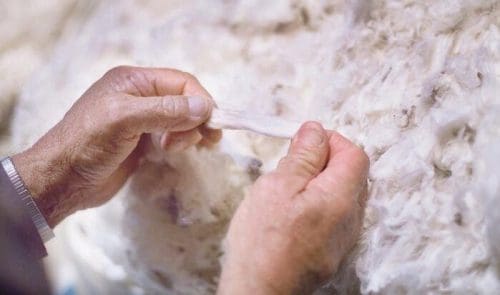 AUCTIONSPLUS online wool sales eased last week, with most bales sold containing fine and superfine Merino fleece.
The AuctionsPlus sold 315 bales on its offer board, including 31 bales of 15 micron wool that sold for up to 1840c/kg greasy, or 2545c/kg clean.
The largest quantity of wool sold in a micron category was the 83 bales of 18 micron fleece that made up to 1250c/kg greasy, or 1778c/kg clean.
The top-priced lot sold online this week was a 13.8 micron fleece line with an average staple length of 84mm and 0.1 percent vegetable matter content that sold for 4005c/kg greasy, or 5228c/kg clean. This lot was branded Beltana and was offered by Nutrien Ag Solutions in Victoria.
National wool listings were boosted last week by the traditional February feature Tasmanian offering that boosted the Melbourne selling centre catalogue. Brokers offered 53,261 bales nationally and 49,810 bales were sold, with 12.7pc passed in. The AWEX Eastern Market Indicator dropped 11 cents on Tuesday and a further cent on Wednesday to close at A1273c/kg clean, or US985c/kg.
AuctionsPlus said the extended selling week finished on a positive note with fine wool continuing to be the focus for several buyers.
Source – AuctionsPlus.