DEMONSTRATION sites run by sheep producers in Victoria and NSW are providing valuable information on genetic and management options to support their move to a non-mulesed flock.
The demonstration sites are part of the 'Towards non-mulesed sheep' project designed to support sheep producer groups to utilise existing tools and management strategies to transition to, and maintain, a non-mulesed flock.
The project is funded by Meat and Livestock Australia under its Producer Demonstration Site program.
Project leader, Lisa Warn, there's no one-size-fits-all approach for a transition to a non-mulesed flock.
"Breeders can be at different stages along their pathway to non-mules.
"They will have different risks of breech flystrike due to their different environments, sheep types and management calendars," she said.
To assist producers in developing their own property-specific transition plans, the project team developed a four-year program that included a one-day workshop for the groups' first meeting.
These workshops allowed the producers to consider key parts of the plan such as:
Assess if their sheep are ready – benchmark where the flock sits visually and genetically with respect to breech traits associated with risk of flystrike. Are any changes required with ram source, breeding objective or ewe selection;
Assess if their businesses are ready – review the farm management calendar and flystrike management plan to identify if any changes are required, and;
Talk to other producers in the same environment who have successfully made the move to a non-mulesed flock.
"We have some leading producers, who have at least 10-years' experience running non-mulesed flocks in a range of environments, supporting the PDS groups across Victoria and NSW," Lisa said.
"Having them share their journeys, the challenges they faced, and the opportunities they have captured has been invaluable."
Producer group feedback and discussion points
During the on-farm discussion group meetings, participants were able to improve their visual breech trait scoring skills and relate this to Australian Sheep Breeding Values (ASBVs). They were also able to utilise the DNA Flock Profile tool to benchmark where their ewe base sits with respect to the traits important to their breeding objectives (if they hadn't been purchasing rams with ASBVs).
Some producers said that after visually scoring their ewes, they realised they were plainer than they thought and could cease mulesing sooner. Others decided to change their ram source and put more emphasis on culling high breech wrinkle score ewes to reduce the reliance on mulesing.
Producers that have stayed with the same ram source have added traits into their selection strategy to reduce flystrike risk.
The demonstration sites have allowed producers to investigate possible solutions to issues they identified as their greatest challenges to moving to/managing non-mulesed sheep.
Common concerns were the ease of crutching/getting contractors to crutch non-mulesed sheep, managing dag, and whether the tail docking method used makes a difference to management.
The other frequently asked question has been: 'If I breed for plainer (low breech wrinkle) sheep, how quickly can I make progress and will this reduce fleece weights and other key profit drivers?'.
Insights from the demonstration sites so far
Demonstration site topics being investigated, in Victoria and NSW, to date are:
 the effect of different tail docking methods on tail wool cover/crutching ease,
 evaluating progeny of sires with low vs high Breech Wrinkle ASBVs,
 trialing a small mob of NM sheep compared to mulesed sheep,
 clarifying causes of and strategies to reduce dag
 when and where to breech score – in the cradle or standing up.
Dag management demonstrations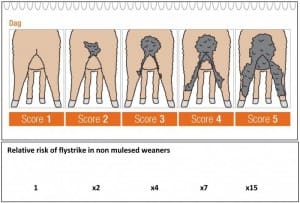 Strategies trialled this year in the dag demonstrations included different drench treatments with more frequent worm egg count monitoring and feeding of fibre in the form of good quality hay.
The dag demonstrations highlighted that worms were the main cause of scouring and not the high-quality pasture in 2022, sheep with access to hay during Winter and Spring put on less weight than those without hay, and dag scores recorded on individual sheep can be used to identify sheep that repeatedly have high dag scores to make culling decisions.
Sire evaluation demonstration
The sire evaluation compared two sire groups with a difference in Early Breech Wrinkle (EBWR) ASBV of 1. All other ASBVs between the syndicates (e.g. fleece weight, fibre diameter, yearling weight etc) were kept as close to each other as possible.
The demonstration highlighted that by using the lower EBWR rams, you are able to:
 make progress in one generation or joining
 reduce the average visual breech wrinkle score of progeny from 2 to 1.5 (0.5 wrinkle score difference).
Progeny from the low EBWR rams ranged from score 1.0 to 3.0, whereas those from the higher EBWR rams ranged from 1 to 5.0.
No need to sacrifice fleece weight
Director of SheepMetriX and NSW PDS group co-ordinator, Sally Martin, said producers should have confidence that they do not have to sacrifice fleece weight to breed plainer sheep; however,  there may be some compromises depending on the starting point of the flock.
"Industry genetic trend data released recently by Sheep Genetics/MLA shows that the average EBWR ASBV for rams in the MERINOSELECT database has reduced, while the average Clean Fleece Weight (CFW) ASBV has increased.
"This is good news for producers," she said.
Results are still being collected for some of the other demonstrations and new sites will start in 2023.
How to get involved
'Towards non-mulesed sheep' groups are currently running in southern New South Wales, western Victoria, north-east Victoria and north-west Victoria.
For more information about the project, visit: Towards non-mulesed sheep
If you want to receive updates about 'Towards non-mulesed sheep' demonstration sites and field days in your region, please submit your details here: Expressions of interest.
A field day will be held near Jugiong NSW on the 22 nd March 2023 to present findings of the current demonstrations and display one of the tail docking method and breech wrinkle ASBV demonstrations.
To register for the field day click here.