AUSTRALIA'S wool industry can also celebrate in AFL grand final week as the Brownlow Medal count gets underway, with the Fibre of Football campaign counting a second successful year and soon to expand into other competitions.
AWI corporate communications manager Marius Cuming said more than 24,000 woollen AFL units were sold last year.
"Two years ago there was not one wool product sold through the AFL and now there is over 140 or so different lines of wool products http://shop.afl.com.au/woollen-range/
General manager of sports clothing distributor Playcorp, Dean Grimster, said the 2016 sales figures were similar to last year and the company was very happy with the Fibre of Football campaign.
"We'll expand the program into other competitions next year, into other leagues."
Mr Grimster said Playcorp liked to think that Fibre of Football with Playcorp had been responsible for putting wool back into football.
"We're very proud of it and of the fact that it is helping local manufacturers.
"It's not a one-off, it is ongoing, we've committed to this long-term and it is very much embraced by the AFL and the club themselves."
New video profiles the McLachlan family's wool connection
AWI this week released its latest Fibre of Football video, featuring high-profile Channel 7 sports presenter Hamish McLachlan – brother of AFL chief executive officer Gillon McLachlan.
The video of Hamish and his father Angus on the family's wool-growing property in the eastern Adelaide Hills in South Australia is the latest Fibre of Football footage highlighting the many great stories behind wool and its link with Australian football.
From a family long-associated with growing wool, Hamish was keen to be involved in AWI's Fibre of Football campaign which has significantly lifted the profile and sales of wool among the millions of AFL supporters across Australia.
AWI said the campaign has enjoyed another stellar year with sales of men's, women's and children's woollen jumpers, scarves, beanies and gloves exceeding expectations. All AFL clubs have got behind the campaign, which celebrates the great connection between Australia's native game and the nation's wonderful natural fibre. Shop AFL woollen range.
In the video, Hamish and his father Angus talk of the opportunities, freedoms and responsibilities that come with growing up on a farm and the importance of sheep and wool to the McLachlan family.
"This is the one place where I truly feel at home," Hamish said.
"We often speak about how Australia used to ride on the sheep's back and that's what our family has been lucky to do. Sheep and wool is an important part of our family."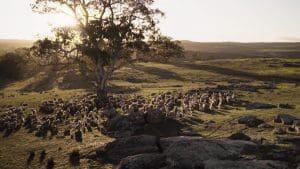 The latest drone technology was used to capture footage of Merino ewes and lambs amongst gum tree lined creeks and granite outcrops that are typical of the landscape of the Adelaide Hills.
AWI said there is clearly a strong bond between the two as they recount the years of the four boys growing up; the trials, tribulations and humour of family life on a farm.
Hamish said he remembered the day his brother Gillon, now AFL CEO, locked him in a cattle crush: "Do you think you'd be allowed to lock your brother in a cattle crush for eight hours these days?" he asked his father.
"Well, marginally exaggerated at eight hours, we heard your squealing after about eight minutes," Angus replied.
The video, now on YouTube and Facebook, aired on the Channel 7 Game Day program hosted by Hamish and joins a long line of Fibre of Football videos that have been seen on Channel 7.
Similar background videos featuring AFL champions Nat Fyfe, Luke Breust and Bernie Vince have all been shown on Channel 7. Together with a video of Geelong champion Tom Hawkins, the video series has enjoyed well over 10 million views across traditional and social media platforms.
Source: AWI and Playcorp.