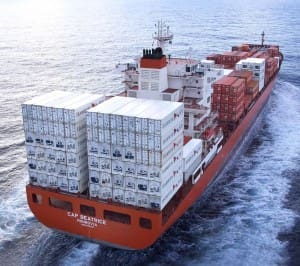 AUSTRALIA'S lamb exports soared to a record level last month – helped by the extra day in February due to the leap year.
However, average national lamb indicators in 2016 to date have been tracking lower than 2015 levels, according to Meat and Livestock Australia.
MLA has reported that Australia's latest monthly lamb exports exceeded the previous all-time February high by 12 percent, reaching 22,235 tonnes.
"This was a significant jump, considering the February volume in 2015 was in fact the previous record.
"The extra day was only one factor contributing to the substantial rise in exports, with higher lamb slaughter — up 5pc year-on-year — a weaker A$ and lower NZ production all coming into play," MLA said.
However, due to last years unprecedented export demand helping relieve the pressure of high supplies, 2016 has started out at a more restrained pace; with the national trade lamb indicator back 2pc year-on-year, at 531c/kg, although it remains 8pc above the five year average of 491c/kg cwt.
MLA said trade lamb prices in New South Wales were steady year-on-year, averaging 538c/kg cwt, as some timely rain has been received.
"However, the same cannot be said for Victoria – with very much below average rainfall for the last 12 months, it is not surprising that prices have suffered, with the Victorian trade lamb indicator down 5pc, to 530¢/kg cwt.
"This is notable, as Victorian prices usual track above NSW price levels at this time of year."
In Western Australia, with dry and hot conditions restricting lamb quality over the last month, trade lamb prices in WA are 4pc lower year-on-year, at 479c/kg, but are 5pc above the five-year average of 458c/kg cwt.
"Whilst WA slaughter is hard to compare to previous years due to a lack of slaughter data collection, MLA's recently collated WA sheep and lamb slaughter report shows that average weekly WA lamb slaughter so far this year is 55,873 head, with slaughter increasing over the last two weeks.
US lamb shipments surged in February
Australian shipments to the US in particular surged, with the February volume up 32pc year-on-year, at 5850 tonnes. This is a positive indication of demand leading into Easter, which is one of the peak lamb consumption times for the US.
MLA said despite the woes of many Middle Eastern economies struggling and the potential for wavering demand as a result of the extremely low oil prices, February lamb shipments to the region lifted 12pc year-on-year, to 5233 tonnes.
"Australian lamb shipments to China lifted marginally – 1pc year-on-year — which is encouraging as China moves out of the high-consumption winter.
"It also indicates the previously reported high sheep meat volumes in China's cold stores may now be starting to recede," MLA said.
The EU is the only major market where February volumes declined compared to the previous year, with shipments down 16pc, to 1080 tonnes.
"Looking forward, given higher lamb processing is expected for the coming 2-3 months, exports are forecast to follow suit."
Slaughter totals up 2pc in Victoria and NSW
MLA said the NSW lamb slaughter is up 2pc, at 722,515 head so far this year. Victorian lamb slaughter is hovering around 1.4 million so far this year, also up 2pc from the same period in 2015.  Saleyard supply has been tightening in Victoria over the last few weeks, back around 20pc on this time last year, with more sheep and lambs sold direct-to-works.
Source: MLA