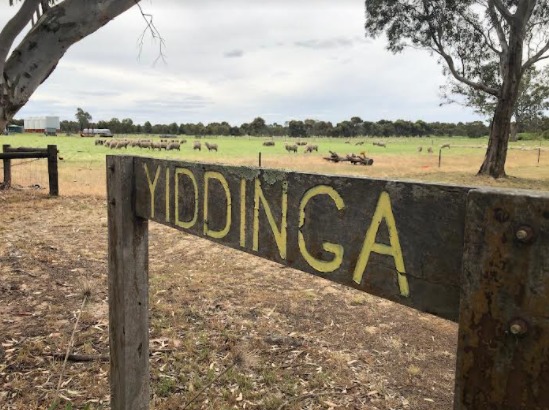 WOOL grower Andrew Farran will continue his long-standing philanthropic contributions to agriculture and education, aided by the sale of the Edenhope district property Yiddinga.
The 1486 hectare/3672.5 acre mixed farming holding, owned by Yiddinga Holdings Pty Ltd, will be offered at auction on Friday the 10th of December 1pm at Edenhope Golf Club by Ray White Rural Victoria.
Mr Farran, the Yiddinga Holdings chairman, is offering the property as a whole for the first time in more than 30 years.
Recent sales in the area have valued similar land in the area at around $5000 an acre, potentially valuing Yiddinga at around $18 million.
Andrew Farran first became interested in wool growing in the Edenhope district on visits to his uncle Jack Farran, his father's twin brother and a soldier settler, in the 1950s.
Although Andrew's education and work as a diplomat and government trade adviser took him far from farming, he always entertained the idea of wool growing and in the late 1980s made the first of a series of property purchases in the district.
Initially a cousin, Jack's son Ron, offered to manage the property until it became too large to work in addition to his own property. Shortly after that, Ron's brother Jim, by then an experienced farmer, became available and has managed the property ever since. For several years, the property was a Balmoral Merino Sire Evaluation trial site, contributing to the ongoing development of Merino genetics in Australia.
Former Australian Merino Sire Evaluation Association chairman Tom Silcock said Andrew and Jim Farran have made an enormous contribution to Merino research by offering to host sire evaluation trials for two years.
"They were one of the first ones (host properties) to offer and then run the ewe progeny through for joining so we could get some fertility analysis."
This included an artificial insemination trial when the Yiddinga ewes were 'sponged' off-shears before later AI, and amazingly more than half the ewes had twins and about ten percent produced triplets, highlighting the need for more research in this area, Mr Silcock said.
Mr Farran has always maintained a keen interest in the wool industry and his United Kingdom-based Farran Foundation, apart from other philanthropic and grant activities, has provided scholarships to Trinity College, Geelong Grammar and to young Australians interested in a career in quality wool production and sheep farm management at Marcus Oldham College in Geelong.
Mr Farran said part of the net proceeds from the Yiddinga sale will go toward a new philanthropic foundation. It will have a broad remit to contribute to charities, including world food programs, scholarships in the areas of agricultural and sheep management and research, and aboriginal education, he said. For the past three years Andrew has lived on Yiddinga in a cottage that will not be sold in the auction. He will maintain his support for agriculture through the new foundation.
The property's highly viable and successful fine Merino wool, sheep and cropping enterprise has averaged around 450 bales of wool annually from an Autumn shearing, as well as running cattle at times. Excellent steel cattle yards and a loading race remain on the property for this option.
Yiddinga consists of 13 titles bounded by sections of the West Wimmera Highway and the Edenhope-Penola and Mundarra Estate roads, six kilometres west of Edenhope. It features two homes – the main three bedroom brick veneer manager's house and a three bedroom weatherboard farmhand residence.
Yiddinga sits on level Red Gum plains with some areas of native Buloke. Average annual rainfall is 550mm and the property is well watered. There have been regular annual applications of 150 –200kgs per acre of single super. Regular agronomic assessments have indicated the potential for further pasture improvement, but the vendors believe they have succeeded while farming conservatively. The property has a network of laneways, articulated watering and decentralised feeding systems.
The six-stand raised board shearing shed was built in 1990 and has staff amenities. The shed and yards will hold 1600 grown sheep under cover.
The property surrounds the Brimbury Wetland, that depending on rainfall fills to about 25-30cms in Winter.
The successful purchaser will have an opportunity to purchase the property inclusive of plant and equipment with some exceptions, together with the fine wool Merino flock, subject to agent's valuation (David Hanel).
Ray White Rural specialist Max Brown said Yiddinga is a highly functional and easily managed sheep, fine Merino wool and cropping property held and actively farmed, and developed, by the vendors over the past thirty years.
"As selling agents it is our judgement that a property opportunity of this quality, magnitude, and potential is unlikely to come to market again in this district within the foreseeable future."