AUSTRALIA'S wool industry must improve its non-mulesed wool declaration rates or risk falling further behind other wool-growing nations as a preferred greasy wool source, according to exporter body leader Josh Lamb.
The president of the Australian Council of Wool Exporters and Processors said AWEX National Wool Declaration rates have been reported since 2008, but it is difficult to argue that the values for non-mulesed (NM) or ceased mulesed (CM) represent satisfactory progress.
"The values for AA (pain relief) are better, but clients are reluctant to, or will not, accept AA," he said.
"We've seen as recently as last week AWI's country manager for China Jeff Ma state that the next generation of consumers in China are already asking questions about the provenance of products they buy be it wool or other."
The current 2019-20 reported declaration rates of 10.2 percent for NM (wool <=24microns) and 3.7pc for CM after 12 years, and several iterations of the NWD which is now up to Version 8, are not a good advertisement for the industry, Mr Lamb said.
Mr Lamb said although the declaration rate for AA is better, wool from these mulesed sheep treated with pain relief is not accepted by key clients.
"Extrapolation forward indicates that declaration rate will be around 15pc for NM Merinos and around 4.5pc for CM in 2023/24 at the current rates of change."
The overall NWD declaration rate, including NM, CM, M (mulesed) and AA (pain relief) declarations for first offer bales, was 70.2pc in 2018-19 and 73.7pc in 2019-20. But without the M category declarations, the rate for NM, CM and AA bales falls to 51.1pc in 2018-19 and to 56.4pc in 2019-20.
Mr Lamb said the current declaration rate at the fine end of the Australian wool clip is 12.9pc for wool less than or equal to 18.5 microns, but moves back to an average of 7.3pc for wools from 19 to 22 microns. The current reported declaration rate for wool of 30 microns and coarser is 49.8pc.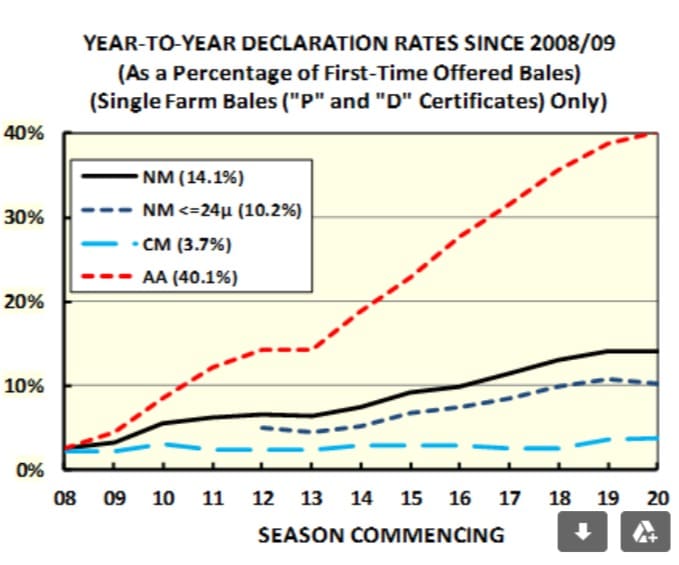 Last chance to get it right?
ACWEP's initial approach to the Australian Wool Exchange board was to create an industry group involving all stake holders to take a renewed approach to the NWD and NM declaration issue. Mr Lamb said this group would have involved representatives from AWEX, the Australian Superfine Wool Growers Association, AWH, Australian Wool Innovation, ACWEP, the Australian Wool Testing Authority, Inland Wool Brokers, the National Council of Wool Selling Brokers of Australia, the Private Treaty Wool Merchants of Australia and WoolProducers Australia.
He said ACWEP, with PTWA and the NCWSBA, is seeking a collective approach to the declaration and non-mulesed wool issues.
"This might be the last concerted effort we have to get it right indefinitely.
"If the answer lands back with the current NWD so be it, but then let's get behind it and make sure it gets the traction the industry needs," he said.
"This working group might find that the current NWD is the right document, but it might also decide that a completely new document or vendor declaration might be the right way.
"Whatever the approach we as an industry must increase NWD completion rates, including improving accuracy, while still pursuing the increase of non-mulesed wool production," Mr Lamb said.
"It's worth noting that an incorrectly completed NWD is still counted in the declaration rates as "declared Not Declared" and printed as ND in the auction catalogue."
Australia perceived as in denial on mulesing
Mr Lamb said it is imperative the Australian wool industry listen to what it's customers want and that it is an industry based on best practice.
"This approach is about whole of farm, not just mulesing, and for wool that starts with completing the NWD.
"For some wool growers mulesing is considered best practice for their environment and this will always be the case no doubt," he said.
"The problem we have is Australia's considered as a producer who is in denial about mulesing and welfare.
"Now we know that is not the case, but perception becomes reality," Mr Lamb said.
"For a long time the industry has be sent mixed messages on the issue and this is no fault of the wool grower."
Mr Lamb said brokers are the front line for contact with growers and improvements in taking up the NWD largely fall on the shoulders of brokers' repesentatives.
"Some brokers have declaration completion rates of over 90pc in their catalogues, while others are below 30pc, why?
Mr Lamb said exporters will do "everything we can to support brokers" on lifting declaration rates.
Potential measures are many
Mr Lamb said measures to increase NM wool production could include tighter world certification systems to limit false certification of mulesed wool as non-mulesed, higher premiums for NM wool, separate AWEX reporting of non-mulesed vs mulesed wool prices of similar type, more levy expenditure on encouraging NM wool production and clearer market signals from AWI on NM wool brand/retailer preferences.
"It's a combination of all these things, promotion, research, market premiums, education and moving forward as an industry at all levels for the greater benefit of all.
"There's evidence to suggest the post pandemic consumer is going to be more discerning than ever in regards to provenance, environmentally friendly and best practice goods," he said.
"Our brilliant product can tick all these boxes and should be promoted as such."
Brokers support improving declaration rates
National Council of Wool Selling Brokers of Australia president Rowan Woods said his organisation supported moves to increase the NWD declaration rate and the number of declared non-mulesed clips.
Mr Woods said some brokers required growers to sign the NWD and this requirement needed to be taken up by other brokers or encouraged by price points at auction.
"It has got to be made clear, in the worst-case scenario, that you don't get a bid if you are not declared, although that is unlikely to happen.
"But it would be good to think that it can be forced through from the exporter side," he said.
"It has got to be driven I think by price."
He said brokers in the eastern states have already proven that they will support the NWD. Wider support from brokers would be "one thing", but there is also a need for greater support from exporters for declared clips.
Mr Woods said the lack of progress in NM and CM declared bales was disappointing.
"I get a feeling of a sense that if we just put our head in the sand it will go away.
"Well I'm sorry it's not going away and you've only got to listen to the transcripts of recent online wool conferences to know it is not going away and the ultimate dictator of that is the consumer at the other end," he said.
"We have to fix this; we have to really ramp it up now and make those declarations count."
He said it was critical to the Australian industry's global reputation that non-mulesed and ceased mulesed wool production and NWD declarations increase.
"The days are gone of doing nothing.
"It's about telling our story."
He urged growers who were mulesing with pain relief to make that declaration on the NWD.
"And if we can have a mass of growers to make the commitment and go away from mulesing and make that declaration, even better.
"We must be ready to declare everything and defend our story whether it is the one they want to hear or the one we need to tell."