EWE and lamb prices lifted on AuctionsPlus last week as the national exclusive online offering dropped about 18 percent to 96,723 head.
Joined Australian White ewe lambs sold to $553, with a breeder at Condobolin in New South Wales selling 200 10 month-old lambs running with AW rams for $559-$553.
Scanned in-lamb first cross ewes sold to $410 for 175 17-18 month-old early August shorn ewes joined to Poll Dorset rams at Rylestone in NSW. A line of early October shorn 14-15 month-old poll Merino ewes scanned 100pc in-lamb to Charollais rams at Brocklesby, NSW, sold for $392.
AuctionsPlus said while the large offerings of the previous two weeks was not sustained, prices were generally higher across most categories on a $/head basis, despite clearance rates again varying across the categories.
Across the lamb categories, the average price for first cross ewe lambs rose $20 to $250 and the Merino ewe lamb average lifted $26 to $209. The comparatively low clearance rate for both categories, at 57pc and 51pc, respectively, continued to show the value that many of the vendors are attributing to future breeders and their unwillingness to reduce reserve levels. Interestingly, while first cross ewe lamb numbers were back 21pc to 8532 head, the number of Merino ewe lambs jumped 79pc to 4941 head, AuctionsPlus said.
Merino wether lamb clearance lifts
In comparison, the clearance rate for Merino wether lambs this week hit 95pc for the 11,484 head offered. With a weekly auction high of $175, the average rose $9 to $149, or around 400c/kg liveweight.
Small offering of ewes with lambs
With the excellent season in full swing across key regions of southern Australia, the offered supply of Merino ewes with lambs at foot continued to be critically tight – especially when compared to late 2019 and early 2020, AuctionsPlus said. Flock rebuilding intentions, combined with very little pressure to sell, continued to see extremely tight offerings, with only one line of 155 head sold this week – averaging $89 higher at $363. In this instance, it is the absence of supply, or what is not being recorded, that tells the best story of what is occurring in the market, AuctionsPlus said.
Scanned Merino ewe offering lifts
An additional 10,000 head of scanned-in-lamb Merino ewes was offered online last week, bringing the offering to more than 26,000. Again, while prices jumped $15 to average $270/head, the clearance rate was only 54pc, as many vendors continue to sit patiently, awaiting buyers to lift offers, AuctionsPlus said.
Nearly 10,000 head of unjoined Merino ewes were offered last week, with an average clearance rate of 68pc. The average price was up slightly, at $229, with a market high of $367.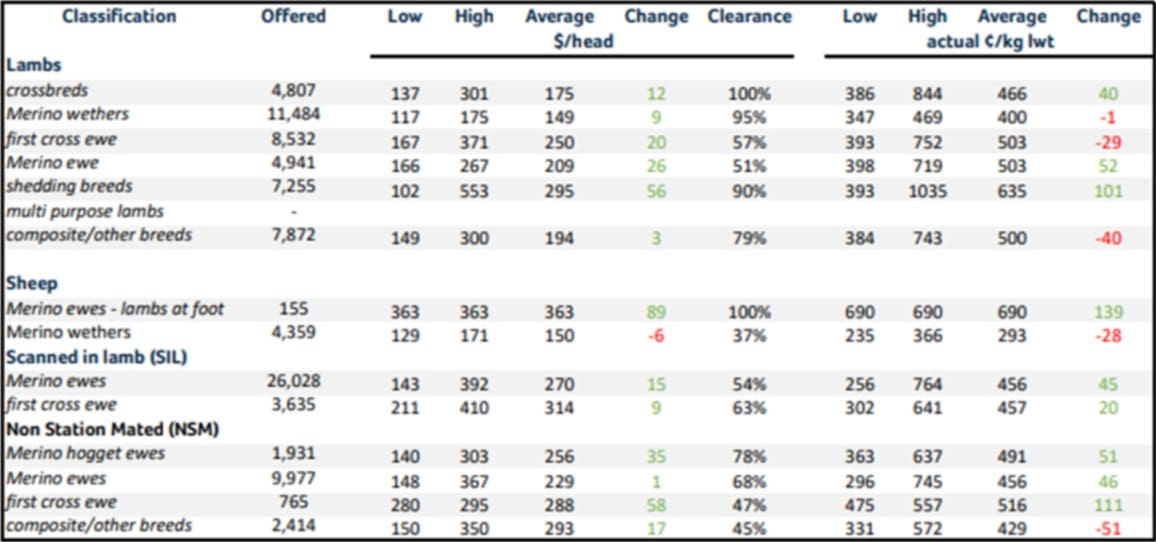 Note: all prices reported below are as at the close of reporting of 5pm, Thursday 18th February.
Source – AuctionsPlus.