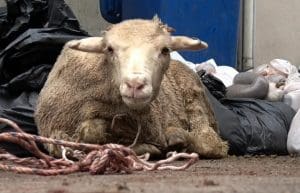 AUSTRALIAN sheep reported outside approved supply chains during the annual Eid al-Adha have been cut by about two-thirds since last year, the Department of Agriculture and Resources has reported.
A spokesperson for the Minister for Agriculture Barnaby Joyce said 12,300 Australian sheep, of the 1.3 million exported to Eid markets, were found outside Australia's Exporter Supply Chain Assurance System in 2015.
Reports for Eid in 2016 indicate around 4000 sheep were seen outside of approved supply chains which is still too many but a significant reduction compared to 2015, the spokesperson said.
"Of these, half (2,000 sheep) were reported in one country, Lebanon.
"This was the first consignment to Lebanon under ESCAS arrangements, and no further consignments have been approved."
Animals Australia video footage allegedly showing recent Eid al-Adha ESCAS breaches in the Middle East and Malaysia was provided to the department on September 23 and given to exporters the same day.
"Fourteen different facilities are shown in the footage; of these, three were ESCAS approved.
"As a result of the investigations into supply chains to date, 12 ESCAS facilities have been suspended, including the three in the footage," the spokesperson said.
"My department acts decisively to protect the welfare of Australian animals in overseas markets, and 12 facilities have been suspended in Malaysia pending the outcome of those investigations."
The Joyce spokesperson said the Coalition acknowledges the vital contribution the live export trade makes to securing jobs and putting food on the table of those in rural and regional Australia.
"It is clear that nobody supports animal cruelty, least of all Australian farmers and exporters. The Department of Agriculture and Water Resources is now formally investigating all footage provided by Animals Australia.
"Through ESCAS every incident, reported by industry, third parties or discovered through audit findings, is investigated and where problems are found exporters are required to address them," the spokesperson said.
"It is clear that the system is working."
The spokesperson said the ESCAS report released in January 2015 demonstrated that more than 99 percent of Australian livestock were exported without reported incident since the introduction of ESCAS.
"These improvements have been achieved because Australian exporters and industry bodies provide pre-Eid training and support to staff at facilities that will be selling and slaughtering Australian livestock.
"Australia is the only nation with an Exporter Supply Chain Assurance System (ESCAS) that is delivering real results that are improving animal welfare outcomes for all animals—not just Australian animals," the spokesperson said.
"The Australian Government remains absolutely committed to our $1 billion live export industry and the returns it delivers to the national economy, to local communities and to families at the farm gate." Click here to get Sheep Central story links sent to your email inbox.
Source: Department of Agriculture and Water Resources.