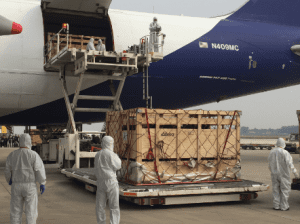 ELDERS has decided to exit from its long haul live export business – including breeding sheep to Inner Mongolia, and feeder and slaughter cattle to China.
Last year, the company consigned Australia first shipment of live beef cattle to China under the new health protocol agreement for feeder and slaughter cattle, and also facilitated Australia's largest ever single shipment of sheep to Inner Mongolia.
Elders chief executive officer, Mark Allison, said today the company remained supportive of the live export industry, and the business remains committed to the needs of its livestock producer clients.
"Our focus remains on increasing client access to a range of markets, including live export markets for their stock, and we will continue to work with industry live exporters to market our clients' livestock.
"While we continue to support our clients who participate in the live export industry, the export, logistics and shipping of live cattle to long haul destinations is no longer central to Elders' strategy, which was devised when demand for live cattle from foreign markets was key to providing marketing options for Elders' livestock producer clients," he said.
Upon finalisation of its live export exit, Elders expects to have about $25m of working capital which can be redeployed in areas that meet return on capital expectation.
Air freight business to be sold as going concern
Elders said it will implement a managed divestment of its short haul and air freight business as a going concern. Elders' long haul business comprises sea shipments of dairy cattle to China and livestock to Pakistan, and potentially includes the export of live feeder and slaughter cattle by sea to China and live export of cattle to other markets of over 10 sailing days. The company's air freight business consists of the freight of live breeder sheep and cattle to China.
Elders' short haul live export business which trades as North Australian Cattle Company, currently comprises the purchase and sea freight of live feeder and slaughter cattle to Indonesia and Vietnam.
"With the introduction of additional specialist providers of live export services, with many of whom Elders has established commercial relationships, the strategic rationale for Elders conducting its own long haul live export business has diminished."
Live export business reports $2.9m loss
Mr Allison said Elders reported a loss of $2.9m from its live export businesses in the six months to March 30 2016.
"That poor result had included a loss of $3.8m attributable to the long haul business.
"Since that report, margin performance in the long haul business has continued to be poor and we believe that margins are unlikely to recover in the near to medium term," he said.
"In addition, we do not see that the China feeder and slaughter trade, which is yet to fully open, will deliver margins or a return on capital at levels that meets our, and our shareholders', expectations.
"As a result, we consider that the long haul of live cattle is best suited to specialist logistics operators."
Elders strengths lie in livestock accumulation
Due to pressure on margins, and an increase in specialist operators within the industry, Elders has identified that its strategic and operational strengths in the live export supply chain are in finding opportunities for its producer clients, through accumulation of cattle for other exporters.
Mr Allison noted the review has also concluded, on the other hand, that our short haul sea export of feeder and slaughter cattle to Indonesia, Vietnam and Malaysia has remained viable notwithstanding extremely high Australian cattle prices which had placed pressure on margins.
"We enjoy very good relationships with end user customers in our short haul business.
"Those relationships have ensured that business has remained viable even in an environment of constrained margins."
Elders expects an underlying EBIT for the full year to September 30 2016 in the range of $54-57m.
The company said this result reflected better than average retail activity due to seasonal conditions and strong livestock prices driving the agency result. Conversely, high cattle prices have impacted margins in the feed and processing businesses.
Source: Elders.