Elders has announced plans to acquire a 30 percent equity interest in livestock financing company StockCo's Australian business.
The deal is subject to final negotiation of contracts and fulfilment of various conditions, Elders said in an announcement to the Australian Securities Exchange.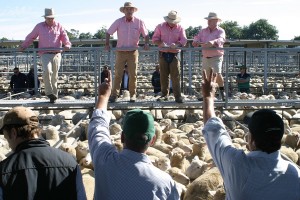 The balance of Stockco's Australian business will be held by an entity within the StockCo group.
StockCo is a specialist provider of livestock funding solutions. Operating in Australia since 2005, it helps beef and lamb producers fund the "finishing" phase of livestock's growth.
Since launching its finishing finance product in 2014, StockCo has funded over $250 million of livestock in Australia and is now the largest specialist livestock financier in both Australia and New Zealand and continues to rapidly expand its position in the Australian livestock industry.
Elders has distributed StockCo's product since 2014.
Elders chief executive officer Mark Allison said the StockCo product had been well received by customers as a convenient and simple way to fund the purchase of livestock.
"An equity position will strengthen our relationship with StockCo and align the growth ambitions of both companies," he said.
StockCo Group managing director Marcus Kight said  the agreement formalised what had been a very successful collaboration between StockCo and Elders since 2014.
"The close working relationship has resulted in positive outcomes for our mutual clients. The taking of an equity stake in our Australian business will be a great way to align growth ambitions for both companies and for StockCo to secure long term access to Elders' impressive distribution platform," Mr Knight said.
One of StockCo's strategic imperatives had been to build a strong and diversified distribution capacity so that the company's livestock funding products were easily accessible to customers throughout all livestock producing regions in Australia. In this area, StockCo said it was committed to a multi-channel distribution strategy.
The company already has formal distribution agreements with Elders, Ruralco and Sprout Ag; arrangements with a number of private and independent livestock agents; broker agreements with selected independent agribusiness advisors; and a direct to market channel whereby clients can deal directly with StockCo.
Mr Kight confirmed that the purchase of an equity stake by Elders would not change StockCo's multi-channel approach and that StockCo would remain an independent business providing livestock funding options to all Australian livestock producers in a manner that compliments existing banking relationships.
He said there would be no change to existing facilities or relationships.
"From our perspective, its business as usual. StockCo will continue to have a separate board, its own management team and will continue to operate as an independent business," Mr Knight said.
"There will be no change to our interaction with customers, to the facilities we offer, or our strategy to make our facilities available to all Australian livestock producers, regardless of the agent they use, or the target market for their livestock."
Elders' Mark Allison said the StockCo agreement was another initiative in line with Elders Eight Point Plan and further developed the Elders' Financial Services business. Subject to final negotiations and completion of conditions precedent, Elders and StockCo aim to complete the transaction in October.
Mr Allison said the acquisition was not expected to be material to Elders' 2017 financial results.
Source: Elders, StockCo.