ELDERS Limited has posted earnings before interest and tax of $132.8 million for the six months to 31 March, up 80 percent on the corresponding 2021 half-year figure.
The agribusiness today announced its sales revenue for HY22 at $1.5 billion is up 38pc on the equivalent period last year.
Elders' retail and wholesale products divisions, as well as its four services divisions — agency, real estate, financial, and feed and processing —have outperformed the 1H21 results in in all product areas and geographies.
This has been led by rural products, with sales up $312.9 million, or 47pc, and wholesale product sales up $46.7 million, or 27pc.
Elders said growth across the rural products business has been driven by strong demand for fertiliser and crop-protection products following favourable seasonal conditions across key cropping regions.
Elders managing director and chief executive officer Mark Allison said the results show the company has been able to leverage "excellent market conditions and deliver an outstanding result for shareholders."
Outlook gets brighter
Elders' full-year underlying EBIT guidance now exceeds the 20-30pc above the FY21 result as published in its March 14 trading update.
"The strong first-half performance has continued in April and we now expect to deliver full-year 2022 underlying EBIT in the range of 30-40pc above full-year 2021 underlying EBIT," Mr Allison said.
Elders expects to benefit from a positive winter-cropping outlook, with sufficient soil moisture for improved production in the second half of 2021-22.
"Lower cash flow in the first half reflects that we have built an inventory position to allow us to meet anticipated increases in winter-cropping demand."
The company said supply-chain challenges have been mitigated by holding higher inventory levels, but residual risk of margin squeeze existed due to pricing volatility of some products.
Livestock, property strong
Cattle and sheep prices are expected to remain high, benefitting Elders' agency business and offsetting anticipated lower volumes resulting from feed availability and livestock restocking.
Elders' agency services gross margin at $82.2m is up 11pc on 1H21, largely driven by high livestock prices more than offsetting reduced volume caused by favourable seasonal conditions.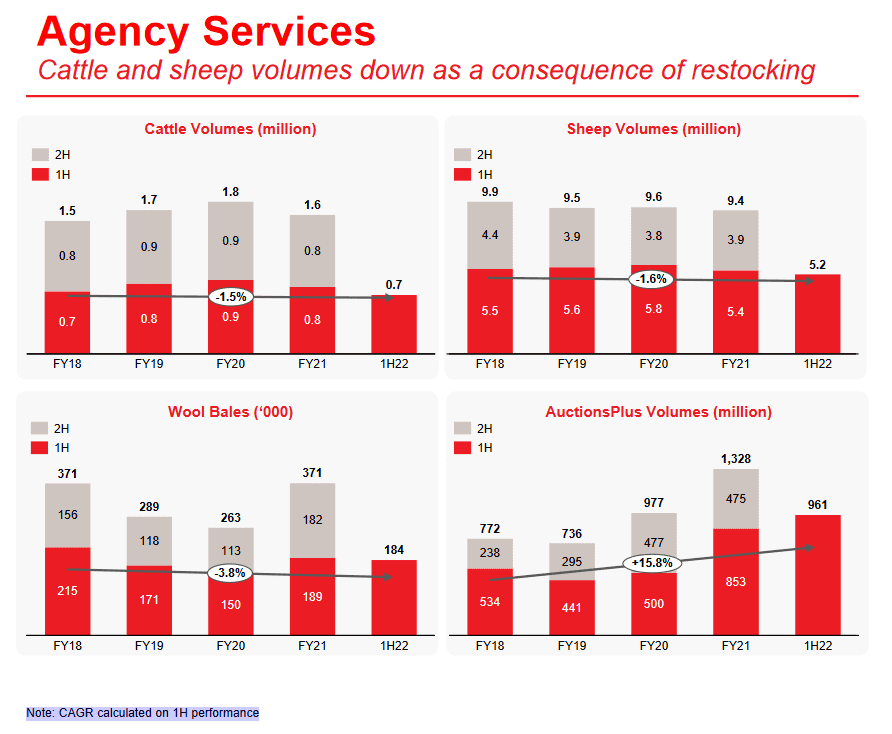 On property, current awaiting-settlement volumes and buyer demand indicate real estate services will continue to outperform against the prior year.
Real estate services contributing gross margin of $33.3M is up 38pc, with farmland agency transactions up 15pc, and residential agency transactions up 7pc.
On financial services, the margin was up $2.8M, or 14pc, to $23.3M, driven by a 9pc increase in gross written premiums in Elders Insurance and improved Livestock in Transit product-penetration rates.
On the beef front, Elders' Killara Feedlot turned off 35,500 head of cattle in the six months to March 31, up from 28,600 head in the corresponding 2020-21 period.
"While sustained high cattle prices and seasonal conditions lowered the number of cattle sold at Killara Feedlot in FY21 compared to previous years, recovery in 1H22 is due to increased demand, high residency levels and cattle performance efficiencies," the company stated in its presentation to investors.
Supply-chain difficulties and ongoing COVID-19 constraints in key regions of China have impacted Elders Fine Foods sales, but its gross margins were mostly consistent with the prior year.
Source: Elders