THE national rainfall map for the past week paints an uplifting picture, particularly for the drought-stressed farming regions of Queensland and New South Wales where there have been widespread, but patchy falls.
Rainfall totals for the year so far in some areas have already surpassed the total registrations for 2019, and there's still the chance of more to come for some districts later in the week.
A spread of substantial registrations across southern Queensland cropping areas is likely to prompt farmers to sow mung bean and late sorghum crops, and will see a flurry of fodder crop plantings by both croppers and mixed farmers desperate to fill the livestock feed shortage.
But in the hard-hit drought regions of NSW, particularly the Central West, the erratic showers largely fell short of earlier predictions and had only minimal impact on building soil moisture profiles.
Many farmers in western NSW experienced the perverse combination of alternating rain showers and dust storms in the past week.
Examples of some of the more significant rainfall registrations in the NSW cropping regions over the past week include: Moree 56 millimetres; Narrabri 36mm; Quirindi 29mm; Scone 37mm; Dubbo 6mm; Forbes 48mm; Wagga Wagga 16mm.
In Queensland, notable registrations in the farming regions for the past week include: Emerald 79mm; Dalby 79mm; Felton 83mm; Drillham 43mm; St George 25mm.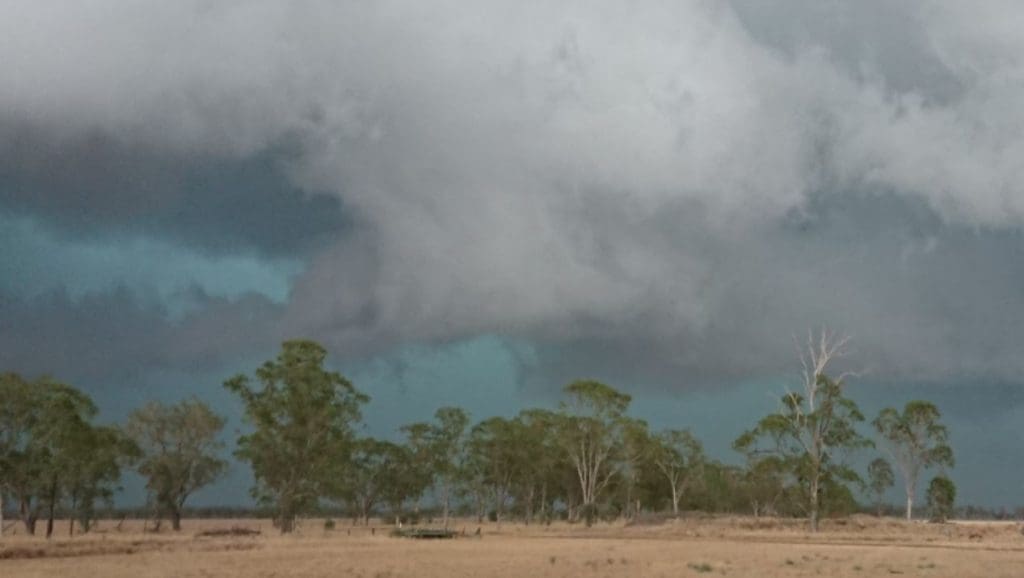 SQ: to sow or not to sow?
Pulse Australia industry development manager, Paul McIntosh, Toowoomba, said the past week's rain meant growers in the northern summer cropping regions had some big decisions to make.
"It will come down to: Are you going to plant or are you not going to plant? The decision process won't be just about soil moisture, it will be about bank managers, soil protection with different cropping opportunities, what seed you have in the shed and a whole raft of issues you need to contemplate," he said.
"It will probably be the last opportunity we have to plant a summer crop. The options will be mung beans, millet and late grain sorghum, or maybe some forage sorghum for those who need the fodder.
"In Central Queensland you might still be able to plant corn and sunflowers."
Mr McIntosh said whether people would be able to plant or not would all depend on how much of the rain infiltrated the soil profile.
"Sometimes you might get better infiltration out of 75mm of rain than you would out of 175mm because it depends on how fast it comes down. How much of the water soaks into the soil will be a major consideration," he said.
But he said anywhere where the falls were below about 50mm would not have had enough to plant on after such a long, dry time.
Queensland AgForce grains president, Brendan Taylor, Warra, said the rain had been a mixed blessing with some areas missing out while others had had big falls.
He said even in those areas that had had 100mm or more, some producers were finding the soil moisture level was still marginal for planting – a sign of how dry it had been before the rain.
"It is certainly building (soil moisture) profile for the winter crop, but some people will take a punt and plant some later summer crop, but obviously a reduced area to what they originally planned," he said.
"There is a lot of talk about mungbeans. There are some attractive prices for beans which is encouraging. But the main thing will be people chasing fodder – forage sorghum, millets or corn for hay and/or silage. There will be incredible demand.
"The thing in the back of everyone's mind is that it will probably be 10 days before they can get on the ground, and that will be right at the back end of the planting window, or potentially too late."
Too late for NW NSW
In North West NSW, B&W Rural principal, Peter Birch, Moree, said while there had been substantial falls in the region, many were heavy downpours rather than steady, soaking rains.
"A lot of the country hasn't got any stubble and ground cover and there's been a lot of water runoff. I've seen some paddocks that have had 50 millimetres of rain but there is less than 10 centimetres of soil moisture," he said.
"It is probably too late to plant anything around here. There will be a little bit of forage go in, mainly for cattle but possibly for hay. The rest of the country will be left for winter crop. Anywhere that had a little bit of stubble or was ripped a bit and hasn't had stormy rain, the moisture has gone to 50 to 60 centimetres in the profile."
On the Liverpool Plains in northern NSW, agronomist Pete McKenzie said the rain was very patchy.
"It didn't deliver what we thought we would get. Falls have been from 50 and 60mm right back to 12 and 13mm. One neighbour would be under it and the other one wouldn't be," he said.
"There is not a lot of summer crop. A few people took a punt on some very late sorghum which was risky. There are some people toying with the idea of putting winter forage in, but that's about it. A bit more rain in the next couple of weeks might open things up.
"Even with some of the big rainfall totals, there was a fair bit of runoff. But at least now it is starting to contribute to the soil moisture profile whereas the events prior to now have evaporated off. With the winter crop varieties we are growing now, we only have a couple of months to get the moisture profile up."
Shortfall for CW NSW
In Central West NSW, Grain Orana Alliance chief executive officer, Maurie Street, Dubbo, said a few areas of the drought-afflicted region had "some handy rain, but the further you go west the less there is".
"For the most part conditions are still pretty bad. That is evidenced by the three dust storms we have had in the last week. It just goes to show that one rain event doesn't fix it. It proved that it can still rain, but it still has to rain a lot more," he said.
"The disappointing thing was there was a strong forecast for substantial rain, but there were a lot of people who ended up with literally single-figure totals which is tough mentally. I understand forecasting is a difficult thing and it is what it is, but a lot of people were hanging on that rain and it fell short."
Grain Central: Get our free daily cropping news straight to your inbox – Click here