A LAMB producer has achieved a 43c/kg carcase weight premium for a high intramuscular fat consignment in the first results from the Gundagai Meat Processors world-first IMF grid offering.
In mid-May this year, GMP offered its world-first lamb grid paying producers on lean meat yield, weight and intramuscular fat, with feedback on animal health at an individual carcase level.
Gundagai Lamb's Late Season Lamb Grid offered producers an average price of $7.50 per kilogram on a hot standard carcase weight/lean meat yield basis for May, June and July delivery. the company is now booking lambs for late July/ mid August delivery under a new price grid.
On the grid, an intramuscular fat or marbling bonus of 50 cents a kilogram was paid for lambs with an IMF of 5 percent or higher. It was aimed at Meat Standards Australia-accredited consignments of 150 lambs or more, of all breeds, although Merino, Dohne and SAMM lambs by application only.
In the first results, from mainly old lamb consignments, GMP chief executive officer Will Barton said that in the best mob of lambs sent to GMP on the grid, 85 percent of the consignment had an IMF higher than 5 percent.
"Which means that producers got the bonus 85pc of the time, which over the consignment amounted to 43c/kg carcase weight.
On average, 30pc of most consignments were over 5pc in IMF and the worst producer achieved this for 3pc of their lambs."

The average producer received the bonus for 30pc of lambs consigned, which equated to an additional 15c/kg on the grid pricing overall. Mr Barton is now looking forward to seeing what happens to IMF performance in Spring, from suckers or new season lambs.
He said GMP's first IMF grid had allowed for a heavier lamb, and a new grid has been released for late July to mid-August matching prices to fat scores (GR measurements), lean meat yield categories and carcase weight.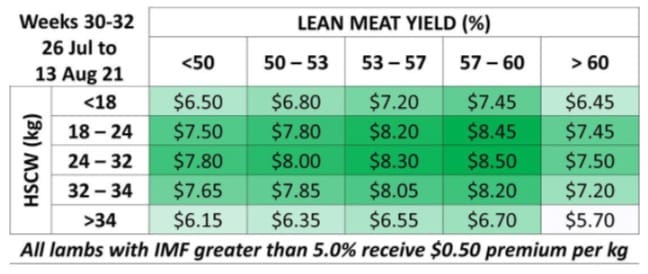 "The higher IMF was associated, not surprisingly, with heavier fatter lambs."
Mr Barton said the factors that contributed to turning off a high IMF lamb included nutrition, genetics rather than breed, and age, and he doesn't expect that any specific nutritional regimen or breed "is the king" for producing high IMF.
"I think it will always be a combination of producers using their smarts and all of those things in combination and for some it might be one of them more than others.
"The ultimate I guess is to turn something off grass with a high IMF."
The high IMF consignment came off a grazing crop, but some lambs off feedlots had also performed well. The top five consignments to date did not all have a common breed or finishing backgrounds, Mr Barton said.
"What it demonstrated to us, and it's what the science has been telling us for some time, is that there are lots of ways to achieve IMF.
Producers need information linking fat score to lean meat yield

He said the new simplified grid for producers reflected more information on which fat scores lined up with which lean meat yield categories. The above table shows how DEXA lean meat yields are lining up with fat scores from the old fat palpation system.  Mr Barton said it is important to understand that these are not exact matches, but rather the most common correlations being seen.
"We've provided that table (above) in the grid documentation to say this is the most likely fat score for each of these lean meat yield categories.
"It's a not perfect correlation, there is a lot of overlap, but people needed that to be able to make decisions," he said.
"What we've realised is that the person that consigned us lambs with 3pc of (+5pc) IMF is unlikely to consign to us again, but the person with 85pc is unlikely to go anywhere else, because they got 43c/kg extra.
"So what it demonstrates to us is that if people are willing to give it a go in terms of trying out and getting the feedback to understand where they sit, they might find that they've got a home here that gives them absolutely the best value to reward them for their IMF," Mr Barton said.
"They might find that they've got the opportunity to improve if they are in the middle of the road, and keep coming here, or they might find that they are on the wrong side of it and they have no intention of changing that.
"That's what it is about for us, to attract those to us who believe what we believe about the future of it, but what a great result for those people with high IMF, that all of a sudden they are getting really strong pricing for their article," he said.
"We can build a brand around that."
Mr Barton said producers will want to know if and how they can repeat good IMF results. GMP is also interested in that and he said after 12 months and after surveying the top producers, the business will be in a position to give some insights.
"We are just not far enough into it."
Mr Barton is looking forward to seeing what impact seasonality has on IMF in consignments in the next 12 months.