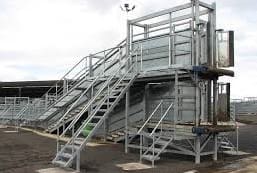 A DRAFT national standard for livestock ramps has been released for feedback, with submissions due by 27 April 2020.
Standards Australia today released the draft 'Design of livestock loading/unloading ramps and forcing yards' document, which is aimed at improving the design and construction of livestock ramps.
Standards Australia said development of the draft standard came after rural communities across Australia were shaken by the death of a transport worker while unloading livestock on a loading ramp in October 2013.
Head of stakeholder engagement at Standards Australia, Daniel Chidgey, said the development of the draft standard is of great importance, particularly following the tragic circumstances.
"Over several months we have worked with relevant stakeholders from across the agricultural industry to develop a standard that intends to provide guidance and improve the safety of workers.
"We've just begun the public consultation stage of the standard development process, which is an essential part and helps us gain a broader community perspective on the recommendations posed by the standard," he said.
The pre-existing Guidelines for Ramps and Forcing Yards developed by The Australian Livestock and Rural Transporters Association (ALRTA) has helped steer the development of the draft.
ALRTA vice-president and chair of the body's animal welfare committee, Michael Debenham, said there is a consensus within the industry that safety can be best achieved by keeping livestock and people separated.
"We have aimed to reflect this in the standard.
"By improving safety for workers, we also improve the safety and welfare of our livestock – the two go hand in hand."
Mr Debenham said the development of the AS 5340 'Design of livestock loading/unloading ramps and forcing yards' standard is strongly supported by the industry.
"We hope by aligning it with the existing ALRTA guide it will be reflective of broader industry needs and help ensure the consistent use of the standard when published," he said.
Those from the manufacturing, agriculture and farming industries are encouraged to submit their feedback on the Standards Australia's website by 27 April 2020.
"Whether it's in metropolitan hubs or remote farming communities, Standards Australia is committed to working alongside industry in improving and promoting safety," Mr Chidgey said.