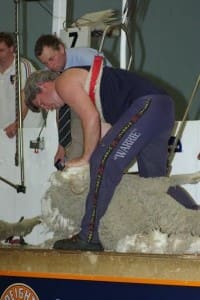 WEST Australian champion Damien Boyle has New Zealand shearers shaking in their moccasins as he zeroes in on a sixth consecutive win in New Zealand's only fine wool shearing championship this weekend.
When Boyle won last year's final at the New Zealand Merino Championships in Central Otago shearing capital Alexandra, it was just after an operation and a cancer scare which had him wondering whether he'd ever shear again.
But there're no worries this year for the 37-year-old who at the weekend bagged another double at the Royal Perth Show, about 320km north west of home town Tambellup.
Bypassing the opportunity to shear for Australia in a trans Tasman test and the Australian national championships in Hamilton, Victoria, he won the Perth show's open final for a 19th time and also figured in a West Australian state team's Merino shearing match against New Zealand guns Nathan Stratford, of Invercargill, and Colin O'Neill, of Alexandra.
The Perth open win gave Damien, and runner-up Todd Wegner from Nungarin, their airfares over to New Zealand for the Alexandra event.
"I can't be shearing too bad," said Boyle, who shears using a sling for back support. "I must be fitter than I was this time last year. I'll try to make the final, and see what happens next."
Boyle will be one of about 180 competitors at the two-day, Friday-Saturday Alexandra event which opens the Shearing Sports New Zealand season of about 60 shows through to the start of April.
It is unique in New Zealand not only as the season's only fine wool event but also because wool handlers, competing in open, senior and junior classes, will outnumber shearers, competing in just the open and senior classes.
Over $14,000 in prizes is at stake, while heats of the open shearing also constitute the first of five qualifying rounds in New Zealand's major all-breeds event, the PGG Wrightson National, incorporating the McSkimming Memorial Triple Crown.
Recent winners of the championship events
Shearing:
Open: 2007 Joe Paewai, 2008 James Fagan, 2009 Nathan Stratford, 2010 Damien Boyle (Australia), 2011 Damien Boyle, 2012 Damien Boyle, 2013 Damien Boyle, 2014 Damien Boyle
Senior: 2007 Shaun O'Neill, 2008 Maaka Rangiuaia, 2009 Scott Perry (Australia), 2010 Jock O'Neill, 2011 Shane Lamont, 2012 Brett Roberts, 2013 Te Atakura Crawford, 2014 Cody Beck
Woolhandling:
Open: 2007 Joanne Kumeroa, 2008 Joel Henare, 2009 Tina Rimene, 2010 Taiwha Nelson, 2011 Joanne Kumeroa, 2012 Joel Henare, 2013 Amy Ruki, 2014 Joel Henare
Senior: 2007 Jayne Griffin (Australia), 2008 Wendy Parsons, 2009 Krystal Wilson, 2010 Sharni Graham, 2011 Keri Henare, 2012 Kodi Hawkins, 2013 Kyle Wihongi, 2014 Sharnie Keefe
Junior: 2007 Molly Kidd, 2008 Katie Hurley, 2009 Ngahuia Thwaites, 2010 Denise Murray, 2011 Stevie Mason-Smallman, 2012 Raylene Johnston, 2013 Ruby O'Neill, 2014 Clarissa Lewis.
Source: Doug Laing, Shearing Sports New Zealand