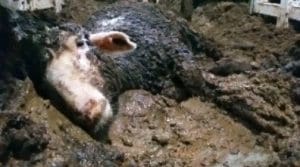 DISAGREEMENT between farmers and RSPCA Australia over what is an acceptable live export sheep death rate is still a core issue despite the latest Middle East shipment reporting a mortality rate of 0.25 percent.
The Al Messilah — the first live sheep export vessel to load from Australia under temporary stocking density restrictions for Middle East shipments — has reported a mortality rate of 0.25pc on reaching Kuwait in the Arabian Gulf this week.
The vessel arrived in Kuwait on Monday after being loaded with 65,344 sheep at Fremantle at 17.5pc lighter than the regulatory stocking requirement and accompanied by a Federal Government observer. There had been 164 sheep mortalities, including 10 sheep that were euthanized, and no deaths among the 228 cattle on board.
The MV Maysora left Fremantle for Turkey in mid-April with 73,836 sheep and 8104 cattle on board, and on arrival reported a sheep mortality rate of 0.42pc, or 315 head. Nine cattle died, giving a mortality rate of 0.11pc. The vessel was not loaded at the 17.5pc stocking density reduction.
Western Australian farmer leaders this week said the latest mortality rates were normal and encouraging; however RSPCA Australia said the sheep losses indicated animals had suffered during the voyage.
RSPCA Australia's chief scientist Dr Bidda Jones said a death rate of 0.25pc over two weeks is still equivalent to an on-farm death rate of 6pc per annum, which would be a disaster for most farmers.
"The fact that 154 sheep died in the pen without being euthanized is a clear indication of the level of suffering on board.
"At this time of year (April), the majority of sheep die from a combination of inanition (failure to eat) and salmonellosis – a painful and exhausting death."
"We still have no information on the welfare of the sheep that may have suffered but survived the journey.
"But we do know that at the density they were stocked at, they would not have been able to easily access feed and water, and could not all lie down at the same time."
Dr Jones said the industry is still fixated on death rates, which the RSPCA considered a poor indicator of welfare.
"As shown in the Awassi footage over five voyages, many sheep suffer and die – but many will also suffer and survive.
"We remain very concerned that the Department hasn't yet released the full and unedited footage and images captured on either the Maysora or Al Messilah voyages."
Industry must strive toward no live sheep deaths – WAFarmers
WAFarmers President Tony York said the recent results were encouraging and were well below the annual averages for live sheep export mortality rates.
"It is preferred, of course, that there are no mortalities during shipments and that all live animals reach their destination in a fit and healthy condition, but we were encouraged by these figures reported by ALEC.
"While we recognise that this may difficult to achieve in the short term, it is a goal that the live export industry must aspire to, and that both producers and the wider public expect," Mr York said.
"Implementation of recommendations from the Federal review should also work towards this goal.
"This will be a good guide to see if these rates can be maintained or even lowered during the summer season in the northern hemisphere, pending recommendations from the Federal review," he said.
Mr York said although the circumstances behind the euthanising of 10 sheep on board the Al Messilah were not known, he believed the decision would have been made in the best interests of the animals to prevent them being in a prolonged period of pain.
"The exporter's adherence to reduced stocking density recommendations and monitoring by a Federal Government observer demonstrates its commitment to improving animal welfare conditions, and we hope that further improvements to vessel mechanisms, livestock preparation prior to shipment, consideration of trade conditions and stringent regulatory processes will see this mortality rate fall."
Mr York said the fatalities on board the MV Maysora were regrettable, though they were also under the annual averages for live sheep export mortality rates.
Pastoralists and Graziers Association Livestock Committee chairman Chris Patmore said the latest live export mortality rates were "normal" and the loss of about 2400 sheep or about 3.8pc on the Awassi Express voyage to the Middle East in August last year was "abnormal". The Awassi Express  voyage deaths exceeded the reportable mortality level of 2pc as prescribed by the Australian Standards for the Export of Livestock.
"The vast majority of shipments are normal and those figures that you've shown me are typical of most voyages," Mr Patmore said.
PGA would leave it to the McCarthy Review to decide what future stocking densities should be, he said.
"But it is important that what happened on the Awassi Express last year never happens again."