AUSTRALIA'S national wild dog management coordinator has suggested recent research and control measures fostering healthy populations on public land indicate the dingo no longer qualifies as a threatened species in Victoria.
As the Victorian Government reviews the future of the state's wild dog program, National Wild Dog Management Plan coordinator Greg Mifsud has suggested current control measures are maintaining a sustainable self-replacing population of dingoes on the state's upper north-east and north-west public lands.
The Victorian Farmers Federation has urged the Victorian Government to renew the state's wild dog program, arguing that baiting and trapping in a three-kilometre livestock protection buffer around public lands has delivered genuine conservation outcomes and reduced wild dog attacks on livestock in the past 11 years.
Victoria's Wildlife Act (1975) Order In Council 'unprotects' the dingo on private land, and on public land within 3km of the private land boundaries to public lands. Recommendations in the Parliamentary Report into Ecosystem Decline in Victoria include removing the Order In Council with its three-kilometre livestock protection buffer, reintroducing dingoes in some parks and phasing out 1080 baiting. There are concerns this could lead to dingoes being protected as a threatened species on private property as well.
The Order in Council is due for renewal on October 1, 2023, but Mr Mifsud said if it is not renewed all wild dog management activities on public land will cease.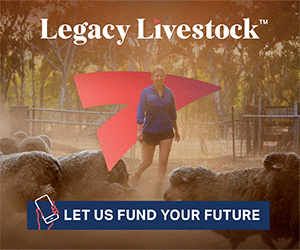 Earlier this month, the Victoria Government told Sheep Central it is carefully considering the Parliamentary Report into Ecosystem Decline in Victoria and its recommendations, and will issue a response in due course.
"We will continue to work with Traditional Owners, farmers and private landholders to appropriately balance the protection of livestock and dingo conservation," a spokesperson said.
Through existing programs and regulations, the Victorian Government said it is supporting farmers to apply best practice management of livestock predation. This included the targeted deployment of some or all lethal and non-lethal control techniques such as fencing, baiting and the use of guardian animals. In combination with other control measures, 1080 continues to be used for protecting Victoria's biodiversity and livestock industries from pest animals, the government said.
Ministerial letter puts the case to continue wild dog control
In late July this year, Mr Mifsud wrote to Victoria's Minister for Environment Ingrid Stitt and Minister for Agriculture Gayle Tierney stating that the Victorian Wild Dog Management Program has reduced wild dog impacts on livestock and domestic pets on adjoining properties and limited their spread into other areas.
"All of this has been achieved without destabilising dingo populations on public lands, bringing into question the need for dingoes to remain listed as protected in Victoria under the Flora and Fauna Guarantee Act.
"Further, the success of this approach and current genetic data from current research would mean that recommendations 8 and 28 of the Parliamentary inquiry into Ecosystem decline in Victoria, are no longer relevant, as the dingo and its populations are neither in decline nor threatened by control programs delivered in the in the 3km Livestock Protection Buffer (LPB) under the Order in Council made under the Wildlife Act 1975," he said.
Mr Mifsud argued that an additional benefit to the implementation of the protection buffer is the protection of the genetic integrity of the Victoria dingo population.
"The genetic integrity of dingo populations is threatened by hybridisation with domestic dogs (wild or owned).
"Recently published research on the genetic composition of dingoes across Australia (by UNSW Australia research fellow – canid and wildlife genetics Dr Kylie Cairns) indicates wild dog management delivered in the 3 km LPB has contributed to significant improvements in the purity of dingoes on public lands in eastern and north-western Victoria," he said.
"The genetic analysis Cairns et al (2023) shows the genetic purity of dingoes within conservation areas in Victoria has increased from 4pc in 2015 to 84pc currently.
"This increase in genetic purity of dingoes within Victoria temporally coincides with the implementation of the 3km LPB, and the associated increase in wild dog control by the Victorian Wild Dog Program from 2010 onwards."
Mr Mifsud believed the increase in dingo genetic integrity identified by Dr Cairns is among the potential benefits to dingo conservation generated by the Victorian Wild Dog Program, along with preventing or limiting crossbreeding with domestic dogs, while protecting livestock and domestic pets.
"In addition to targeted ground and aerial baiting, Department of Energy, Environment and Climate Action (DEECA) wild dog program staff have, on average, trapped 550 to 600 wild dogs/dingoes each year for the past 10 years in the public-private land interface, with no downward trend evident in these numbers.
"At face value this may seem like a Sisyphean task; however, these results are positive from a dingo population perspective in that they indicate that the dingo population on public land within the LPB is stable, self-replacing and not showing a downward population trajectory," he said.
"Critically, the DEECA Wild Dog Program is only conducted on approximately 1.60 million ha of the 4.7 million hectares of public lands in the east and north-west of the state.
"This provides over 3.1 million hectares of public lands including, state forest, and national park where dingoes can reside undisturbed," he said.
"The areas in the north-west of that state clearly illustrates that the 3km LPB is a very narrow strip compared to the huge landmass of the Big Desert and Wyperfield National Parks, with control only delivered in areas to the east where historical and ongoing attacks on livestock occur and certainly doesn't threatened the existence of the population, as has been suggested in recent media."
Mr Mifsud said wild dog control conducted in the protection buffer is highly strategic and targeted in nature and the area under control is significantly less than the 1.6 million ha that the LPB occupies. The DEECA wild dog management work zone maps show clearly the targeted nature of the control activities and the fact that there are significant areas within the LPB where management does not occur, he said.
Dingo's threatened species status queried
Mr Mifsud said available dingo genetic research and population data indicates that the dingo does not qualify as a threatened species under the Flora and Fauna Guarantee Act 1988 under the criteria listed in Section 11 of the Act.
Under Section 11 (1) of the Act, a taxon or community of flora or fauna is eligible to be listed if it is in a demonstrable state of decline that is likely to result in extinction or if it is significantly prone to future threats that are likely to result in extinction.
Mr Mifsud said it has been established that the dingo is not a separate species, and is taxonomically not different to a domestic dog, hence the scientific name Canis familiaris. He said recent DNA research suggests all wild living dogs on Victorian public land in eastern and north-western Victoria meet the criteria to be considered dingoes, according to Dr Cairns et al (2023).
"The DEWLP Victorian Wild Dog Program figures indicate that there is a consistent number of dingoes removed from the LPB annually since 2010 indicating a sustainable, self-replacing population of dingoes in the public estate.
"Estimates based on published home range sizes indicate that dingo populations within eastern and north-western Victorian can be considered abundant," he said.
The Act also stipulates that a taxon of flora or fauna "which is below the level of sub-species and a community of flora or fauna which is narrowly defined because of its taxonomic composition, environmental conditions or geography" is only eligible for listing as threatened if in addition to the requirements of sub-section (1) there is a special need to conserve it.
Mr Mifsud said the dingo is widely distributed and abundant across its range in Victoria.
"Conservative estimates provided here put the population at over 5000 individuals.
"Its habitat and distribution on the public lands on which it exists are not under threat and are not likely to contract in the near future."
Keeping the 3km buffer will keep pure dingoes on public lands
Mr Mifsud said keeping the 3km Livestock Protection Buffer will ensure protection of high purity dingoes on public estate while limiting the impacts of dingoes on livestock production, domestic pets and human health should they be allowed to spread into new areas of the state.
"The renewal of the Order in Council and maintaining the 3 km livestock protection buffer is paramount to achieving ongoing conservation and pest management objectives and outcomes for those living in and around the public lands where dingoes persist and for the broader Victorian public who wish to see dingoes protected on National Park and public lands within Victoria."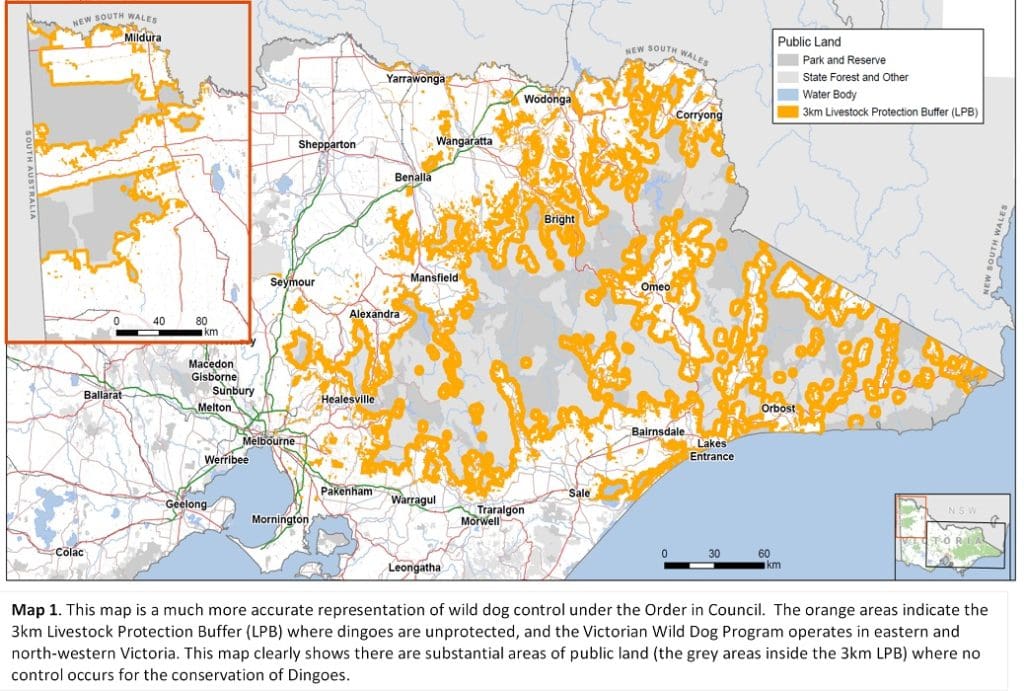 'Killing dingoes does not help conserve dingoes' argues researcher
Dr Cairns said a letter by 25 scientists and researchers from around Australia has been sent to the Victorian Government about the need to revise current public policy in Victoria, including revoking the current Order in Council that unprotects dingoes (a threatened species) within 3km buffer zones.
She did not accept that wild dog managements plans had played a role in maintaining genetically pure dingo populations on public lands and suggested Mr Mifsud had misunderstood or misinterpreted her recently published research.
"There is no evidence that current wild dog management plans have benefited dingo populations on public lands in Australia.
"Rather, there is evidence that dingoes rarely interbreed with domestic dogs and have maintained their genetic identity despite ongoing persecution and the high density of domestic dogs (as pets) in Victoria," she said.
Nor did Dr Cairns believe that the Victorian Wild Dog Program has limited crossbreeding between dingoes and domestic dogs.
"Killing dingoes does not help conserve dingoes.
"We have observed in our new DNA studies that dingo x dog hybridisation is most common (although still rare) in regions with long term intensive lethal control programs and a high density of pet domestic dogs," she said.
"The single study completed in Australia on this topic was unfortunately carried out in a region with a low domestic dog population and only sporadic lethal control so it is not informative to this issue, particularly in Victoria.
"We can see from published genetic data that dog ancestry is more common in regions with intensive lethal control (aerial baiting) and higher densities of pet dogs."
Dr Cairns said there is no reliable census or survey data across Victoria that would allow an assessment on whether the annual number of dingoes killed in public lands is sustainable or to assess the current vs past population size of dingoes across the state.
"Additionally, this does not consider the genetic impact of regularly removing dingoes from the breeding population, which may lead to inbreeding and genetic bottlenecks.
"Consistent removal of a certain number of dingoes from the environment does not provide any evidence about the health, abundance or density of dingoes in Victoria and cannot be used as evidence that the dingo population is healthy or self-replacing," she said.
"Baseline census data would be needed to assess whether the current 'take' of dingoes from public lands is sustainable, and more detailed genomic data would be needed to assess if this 'take' is having an impact on the genetic health of dingoes."
Dr Cairns said there is no evidence from DNA studies in Victoria to suggest that killing dingoes in the 3km public land boundary zone provides benefit to dingoes, and there is insufficient data available to properly assess the health of dingo populations in Victoria.
"The preliminary evidence we have would suggest that there concerns around the ongoing genetic viability of some dingo populations with the observation of low genetic diversity and high homozygosity.
"Furthermore, the fragmented nature of conservation reserves in Victoria (and elsewhere) may be limiting geneflow between dingo populations," she said.
"Whilst genetic data shows dingo populations in Victoria have remained genetically intact, this does not mean that dingo populations are healthy, more research is needed."
Dr Cairns does not think there is currently adequate data on the genetic health, population size, range or the threats experienced by dingoes to revise the Threatened Species Listing at this time, "and any review must be based on rigorous scientific data by the Victorian Threatened Species Scientific Committee, not by the Co-ordinator for the National Wild Dog Action Plan."
She said a preliminary study published today has suggested that dingoes across Australia carry low levels of genomic diversity as a result of evolutionary bottlenecking.
"This low baseline genomic diversity may make dingo populations more vulnerable to genetic declines following lethal control programs, like the program continuing in Victoria. See Kumar et al. 2023 https://onlinelibrary.wiley.com/doi/10.1002/ece3.10525"
Dr Cairns said the genomic data in her crossbreeding or dingo-domestic dog 'admixture' research indicated that dingoes in Victoria have not ever been compromised by domestic dog introgression, not that dingo 'purity' has increased.
"In fact we show that previous methods of DNA testing used by Centre for Invasive Species Solutions, State Governments and researchers are biased and misidentify pure dingoes as hybrids."
The research found that in Victoria, where previous reports suggested the pure dingo population was as small as 4 percent, the study found 87.1pc of animals tested were pure dingoes and 6.5pc were historical dingo backcrosses with more than 93pc dingo ancestry. In New South Wales and Queensland, where dingo-dog hybridisation is assumed to be pervasive, most animals were found to be pure dingoes, and only two wild canids had less than 70pc dingo ancestry. Little evidence of hybridisation in the dingo population was also found in the Northern Territory, South Australia, and Western Australia.
Dr Cairns reiterated that her research does not show that the genetic purity of dingoes increased from 4pc to 85pc.
"It shows that previous research (which reported 4pc pure dingoes remaining) was incorrect, because it misidentified pure dingoes as hybrids.
"Further, there is absolutely no evidence that there was a change in dingo purity coinciding with the implementation of the 3km LPB."
Dr Cairns said in Victoria, dingoes are listed as Canis lupus dingo, but the IUCN SSC Canid Specialist Group she is a member of will be undertaking a review of the taxonomy of all canids, including dingoes. She noted that dingo taxonomy is hotly contested with names used including Canis familiaris, Canis dingo and Canis lupus dingo.
"The recent observation of reproductive isolation (ie little interbreeding) between dingoes and dogs, as shown in my published scientific study, along with other lines of genetic and morphological evidence, suggests that the dingoes are distinct from dogs."
Neither Minister for Environment Ingrid Stitt nor Minister for Agriculture Gayle Tierney would comment this week on whether the Victorian Government was considering changing the Threatened Species status of the dingo in Victoria. Instead a Victorian Government spokesperson reiterated:
"We will continue to work with Traditional Owners, farmers and private landholders to appropriately balance the protection of livestock and dingo conservation."