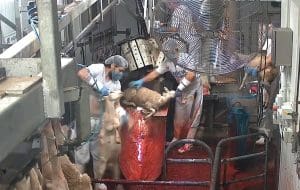 CRUEL treatment of lambs in a Victorian abattoir exposed in an online video has been condemned by Sheep Producers of Australia and the Australian Meat Industry Council.
A video showing lambs being manhandled, chased and roughly slaughtered by Carrum Meatworks workers has been released online on leaked.com.au by Animal Rights Australia.
Gathercole operates its Carrum Downs abattoir at Patterson Lakes in outer south-east Melbourne. The company has not released a statement and a receptionist at the company's Melbourne office told Sheep Central: "We've been advised not to comment."
Australian Meat Industry Council chief executive officer Patrick Hutchinson said the video showed practices that were cruel, abhorrent and completely unacceptable. It is believed the CCTV footage was recorded in March this year.
An AMIC statement said PrimeSafe has dealt with the historical footage through enforcement action and continued to monitor the establishment over the past months through ongoing investigation.
Sheep Producers Australia executive chairman Chris Mirams said SPA expected swift and decisive action from Gathercole and the Victorian authorities in response to the incident.
"We're confident that Primesafe and Gathercole are working to ensure this sort of thing never happens again.
"We will be communicating to Gathercole on behalf of producers the high priority we place on best practice animal welfare," he said.
Ms Mirams said SPA will be supporting the AMIC as the peak industry body for the processing industry, "as there is no place for this sort of behaviour in any part of the sheep supply chain."
The actions captured in the footage are appalling and completely inconsistent with the animal welfare values held by sheep producers, he said.
"Sheep producers are unwavering in their commitment to the highest animal welfare standards and expect that this commitment extends to every part of the supply chain.
"Sheep producers expect that when their animals leave their properties the same high standards of care that have been provided on the farm are continued," Mr Mirams said.
"Producers also need to have confidence that the systems in place within the processing industry are monitored and enforced to ensure this kind of mistreatment does not happen."
Abattoir CCTV scenes 'simply sickening' – AMIC
Mr Hutchinson said the video showing the improper slaughter of sheep in which some animals were mishandled and mistreated was "simply sickening".
"I accept that we may not know the whole story as this company is not part of our membership, but there is no excuse for what I saw."
However, Mr Hutchinson rejected the suggestion that the scenes shown were representative of typical practices in the Australian red meat sector.
"Members I have spoken to are disgusted and horrified by what they have seen."
"Our organisation and our members continue to work towards ensuring the very highest standards of animal welfare are in place in our sector. Incidents like these let the entire industry down," he said.
"To that end we have now contacted the Victorian regulator, PrimeSafe."
AMIC is the peak council that represents retailers, processors and smallgoods manufacturers and is the only industry association representing the post-farmgate Australian meat industry. AMIC developed the Australian Livestock Processing Industry Animal Welfare Certification System (AAWCS), which is independently audited by AUS-MEAT. The company in the video is not AAWCS accredited, AMIC said.
Click here to view the video released and investigated by authorities, but be warned the edited footage contains confronting images.