CROSSBRED wools found support at auction and in the forward market this week, arresting a month-long decline.
It was another solid week for the spot auction, with the finer wools continuing to outstrip the middle microns.
Pleasingly, the trades on the forwards was once again limited to the finer end. This makes sense for a number of reasons. Firstly, the outright price for the finer microns is sitting in the high percentile bands.
Hedging 17 micron wool at 2300 cents and above, places the price in the 80th percentile of prices for the last decade. Hedging 18 micron wool around 1950 cents and 19 micron at 1670 cents puts you in the 70-75 percentile bands.
Secondly, as the chart below illustrates, we are nearing historically high levels in the basis (difference in prices) between 18 and 21 microns. This opens the opportunity for medium wool growers to effectively hedge using the finer micron contract.
We expect the forward market to remain solidly bid around this week traded levels, with bidding into the New Year and 2023 in the finer microns flat to cash and medium wool at a premium.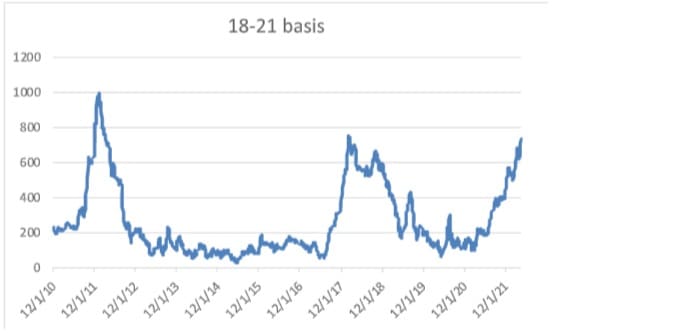 This week's trades
August 2021 17 micron                                                 2300 cents                         5 tonnes
Jan 2022 18 micron                                                       1955 cents                         2 tonnes
Jan 2022 19 micron                                                       1680 cents                        25 tonnes
Feb 2022 19 micron                                                      1680 cents                          8.5 tonnes
April 2022 18 micron                                                     1955 cents                          5 tonnes
Total 45.5 tonnes