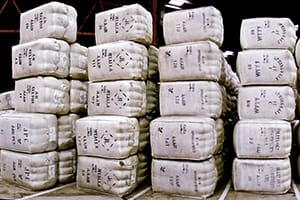 Crossbred wool prices continued to rise last week, but there was downward pressure on most Merino categories, in the first Australian sales after the three-week recess.
AWEX senior market analyst Lionel Plunkett said the increases in crossbred wool prices were close to 30 cents for some types, with the 28 to 30 micron range most affected.
"Depending on the region, the 30 Micron Price Guide is at, or close to, record highs, including the similar AWC series which extends back to 1979.
"The 28 micron wools are also being well-supported, but are still at least 100 cents below their peak made in 2002."
Australian Wool Innovation consultant Scott Carmody said the larger Chinese indent operators led the way on most of the crossbred fleece types, which represented around a quarter of the total wool available for the week.
"The crossbred skirtings also came under attention and solid gains of 10-15 cents per clean kg were made for the week."
Mr Carmody said exporters reported business during the recess was hard to come by across the Merino fleece sector and longer Merino combing skirtings, but all descriptions of cardings, open top and crossbred remained under steady enquiry.
Market generally unchanged
But Mr Plunkett said using the AWEX-EMI as a barometer, the 53,000 bales offered in the opening sale of 2015 were met with an unchanged market when compared to the previous auction held three weeks earlier.
"There was an initial dip of two cents in the Eastern Market Indicator before it clawed back the loss in one cent instalments over the following two days.
"The unchanged result masked movements in the underlying components however, with differing outcomes depending on the sector."
The AWEX EMI finished the week on 1059c/kg, with a national pass-in rate of 9.2 percent, and the EMI closed in US dollars at 857 cents, down 26 cents, with the Australian dollar on US80.97 cents.
Most Merino wools in negative territory Mr Plunkett said all the main Merino Micron Price Guides closed in negative territory after a gradual drift lower over the course of the week, mostly ending 5-15 cents below pre-Christmas levels.
"While the downward pressure was reasonably consistent across all microns there were some differences between types and discounts narrowed in certain pockets.
"Merino skirtings mirrored the fleece sector, easing by around 10 cents," he said.
Mr Plunkett said Merino cardings came under solid buyer pressure and extended their pre-Christmas rally.
"Gains of 10 to 20 cents this week pushed the Merino Carding Indicators closer to their 2013 high."
Melbourne Merino prices ease 5-10 cents
Landmark wool risk manager Anthony Boatman said in Tuesday's opening sale in Melbourne prices for Merino fleece wool from fine to broad eased 5-10 cents below pre‐Christmas levels.
"Locks and crutchings remained firm however, as did most crossbred lots, particularly the 28 and 30 micron categories which gained 10 cents."
The market stabilised on Wednesday with gains of up to 8 cents for the 18 micron and finer wools, while most medium to broad micron categories were soft to unchanged, he said.
"Crossbred wool continued to perform well, particularly the 30 micron categories which gained 10 cents, while other categories were up to 5 cents firmer."
There was a similar trend on Thursday with softer prices for the fine wools of 1-7 cents, while the medium microns were firm to unchanged.
"Crossbred fleece wools continued another few cents higher, with the 28 micron wools recording the largest gain of 11 cents.
"Oddments also lifted, with locks and crutchings quoted 5-10 cents higher," he said.
Some Sydney Merino types unchanged
Mr Boatman said Sydney's Wednesday sale prices eased in line with the southern markets' opening.
"Fine to broad merino fleece wools mostly ranged from 3-7 cents lower, although there were some exceptions, with 19.5, 17 and 16.5 micron wools firm to unchanged.
"The 22 micron categories were at the other end of the scale, decreasing by 12 cents," he said.
"The crossbred offering saw good demand, with the 28 and 30 micron lots gaining around 15 cents, and other crossbreds firm to unchanged.
"Oddments also enjoyed strong support, with increases of 5-20 cents pushing the Merino carding indicator up 12 cents."
On Thursday in Sydney, Mr Boatman said the 17.5 micron and finer Merino wools eased a few cents, and the 18-21 micron wools closed the day's trade firm to unchanged. The 22 and 23 micron wools gave up some ground, he said, while the crossbreds remained firm, with prices up to 15 cents higher for the 28 micron categories.
Fremantle market also opened softer
Mr Boatman said the Fremantle market opened with losses of around 10-15 cents across most of the offering.
"Hardest hit were the 19 micron wools, which fell almost 20c, with the 19.5 and 18.5 microns close behind, losing 15 cents. "Other categories were around 10c softer."
Mr Boatman said oddments bucked the trend and made good gains, pushing the Merino Carding Indicator up 14 cents. There were further falls on Thursday across the 18-20 micron categories, with losses in a wide range from 1-9 cents. The 21 and 22 micron wools found support, closing 5 cents and 8 cents higher, respectively, he said. Oddments remained well-supported with increases of 5-10 cents.
Chinese New Year holiday may hamper demand
Mr Carmody said once again a high proportion of the 56,047 bales listed for sale next week will be in the room 2 types of crossbred, skirtings and cardings.
"The fast approaching Chinese New Year two-week holiday period in mid-February may hamper the buying the next few weeks.
"Any wools shipped prompt over the next few weeks will land at China whilst the shutdown is on and some buyers may put off their buying for a week or so to avoid demurrage charges of having containers sitting on the wharf," he said.
Sources: AWEX, Landmark, Australian Wool Innovation.