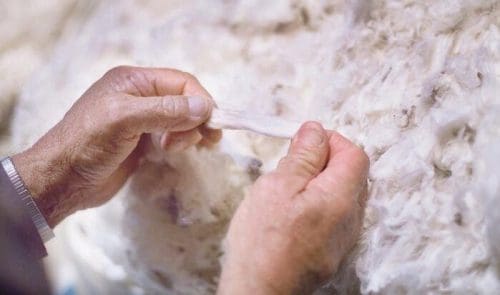 CROSSBRED wool was favoured in a week of lower demand on the AuctionsPlus offer board platform as a large offering of wool hit the resumed physical auctions.
AuctionsPlus said it traded 36 bales last week, with a range of crossbred fleece wools in highest demand.
The sale of 27 bales of 29 micron wool accounted for 75 percent of sales. It sold to a top price of 255c/kg greasy or 336c/kg clean.
However, the top priced lot online this week was 1640c/kg greasy or 2373c/kg clean for a bale of 17.6 micron Merino fleece wool with an average staple length of 87mm and containing 0.4 percent vegetable matter. The lot was branded "The Plains" and was offered by AWN.
AuctionsPlus said the AWEX Eastern Market Indicator closed out at 1372c/kg clean on Tuesday, a 55 cent drop, since the auctions halted for the three-week recess.
AuctionsPlus said 49,181 bales were offered for the auctions, more than the industry typically sees at this time of year, although significantly less than anticipated prior to the national recess.
Source: AuctionsPlus.