PRICES improved for crossbred, composite and shedding breed lambs on AuctionsPlus last week, with only Merino wether and ewe lamb values falling.
AuctionsPlus' commercial sheep and lamb offering lifted by 24 percent to 113,835 head.
The run of dry and warm conditions has continued to assist finishing programs, while clearance rates across categories remains mixed, as many buyers exercise price caution heading towards autumn, AuctionsPlus said.
New season lambs accounted for 58pc of the offering, with 60,363 head listed.
Four of the six lamb categories returned higher prices this week, while Merino ewe and wether lamb prices experienced a softening. A total of 13,850 head of crossbred lambs were offered, with the category returning an 83pc clearance rate. Prices ranged from $120-182 to average $161, up $2.
Merino wether lambs was the largest lamb category, with the 18,613 head offered accounting for 16pc of total listings. The clearance rate dipped slightly to 74pc and prices also softened for the category, averaging $132, back $10. Two lines of April/May 2021 drop Merino wether lambs totaling 1770 head and averaging 39kg at Tambo, Queensland, made $145.
The 8146 shedding breed lambs offered achieved the highest clearance rate among the lamb categories of 84pc. Prices for the category averaged $345, up $71. A highlight included two even lines of 8-9 month-old Australian White ewe lambs from Gulargambone, NSW, weighing 48kg lwt that sold for $560.
Joined ewe listings made up 18pc of the weekly supplies, with the 24,609 head offered receiving mixed results across the categories.
Only 43pc of the 1651 scanned in-lamb first cross ewes sold, as buyers chose the younger and heavier lines. Prices for the category averaged $350, up $83. A line of 3.5 year-old scanned in-lamb first cross ewes weighing 62kg at Barnawartha, Victoria, sold $150 over their reserve at $405.
Scanned in-lamb Merino ewes accounted for 12pc of the total offering this week, with 58pc of  12,992-head offering selling to new buyers. Prices ranged from $155-$373 to average $277, up $13. A line of 3 year-old scanned in-lamb Poll Merino ewes weighing 67kg liveweight at Wallla Walla, in the Riverina, NSW, made $373.
The unjoined ewe categories had a total of 22,839 head listed this week, with four of the five categories seeing a reduction in price averages from last week.
The 9544 Merino hoggets averaged $240, back $12, for a clearance of 76%. An offering of 2000 1.5 year-old unjoined Kerin Poll blood Merino hoggets weighing 55kg at Bourke, NSW, sold in five lines for $388-390 to one buyer.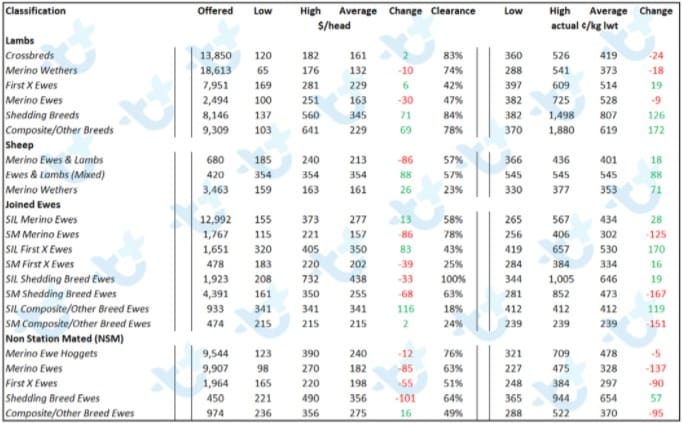 NOTE: Prices as at 5pm, Thursday 17th February 2022