CROSSBRED, Merino wether and ewe lamb prices lifted on AuctionsPlus last week as the online saleyard offered 54,535 commercial sheep and lambs, down 21 percent on the previous week.
AuctionsPlus said selective buying paired with wintery conditions caused prices for joined ewes to ease on last week.
The 5709 crossbred lambs offered was down 9pc. Selective buying led to a 50pc clearance by late Thursday, with prices averaging $135 – up $5. At Quorn in South Australia, 55 Suffolk/Merino cross mixed sex store lambs weighing 30kg lwt sold for $30 over reserve at $130.
The 9885 Merino wether lambs listed was the largest lamb offering for the week. AuctionsPlus said the increased offering was met with robust demand and the category achieved a 62pc clearance by late Thursday with an average price of $136, up $31.
AuctionsPlus cleared 93pc of the 1980 Merino ewe lambs offered at an average price of $239, up $101. At Forbes in New South Wales, 225 ewe lambs averaging 47kg lwt made $259.
Shedding ewes the exception in joined categories
AuctionsPlus said prices eased in all joined ewe categories except for the shedding breed ewes, with clearance rates impacted by selective buying. About 78pc of the 10,117 scanned in-lamb Merino ewes were sold by late Thursday, up from the 60pc sold at the immediate close of sales on Tuesday. Prices averaged $202, down $19. Topping the category at $289, was 400 12 13-month-old ewes at West Wyalong in NSW that weighed 52kg lwt and were scanned in-lamb to White Suffolk rams.
The average price for scanned in-lamb first cross ewes eased $8 to $246. Selective buying was prevalent in the offering of 3903 — 24pc down on the previous week — and only 42pc were sold. At Ararat in Victoria, 170 11 12-month-old first cross ewes weighing 51kg lwt and scanned in-lamb to Suffolk rams sold for $260.
AuctionsPlus last week cleared 72pc of the 864 scanned in-lamb shedding breed ewes for an average of $231, back $114. At Augathella in Queensland, 500 rising six and seven year-old Dorper ewes weighing 69kg lwt and scanned in-lamb to White Dorper rams sold for $226.
All 1155 of the Merino ewe hoggets offered last week sold for an average of $143, down $57. At Quilpie in Queensland, 800 22-23 month-old ewe hoggets weighing 43kg lwt sold for top price of $190.
NOTE: Prices as at 5pm, Thursday 7th July 2022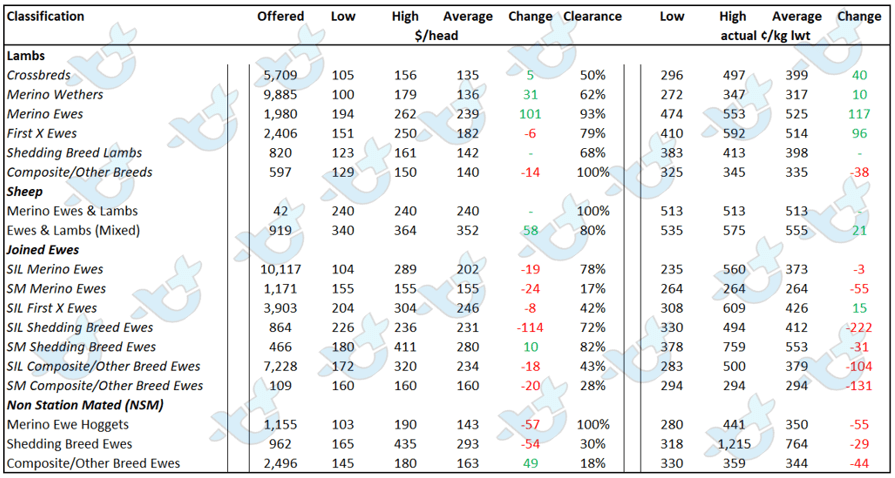 Source: AuctionsPlus.