CROSSBRED and Merino wether lamb prices slumped on AuctionsPlus last week, while prices improved for Merino wethers and joined Merino and shedding breed ewes.
In the last AuctionsPlus commercial sheep and lambs for the 2021-22 financial year, 66,809 head was offered, 5 percent more than the previous week, with mixed price and clearance results.
AuctionsPlus presented a reduced offering of 6246 crossbred lambs that met buyer resistance, with the average price easing $19, to average $130/head, with only 44pc selling. At Eumungerie in New South Wales, 206 Poll Dorset cross mixed sex suckers weighing 36kg lwt sold for the top price of $160.
The ofrfering of 9778 Merino wether lambs was up 44pc on the previous week. Post-sale negotiations lifted the clearance rate from 42pc after the sale to 62pc. The category averaged $105, back $17. A line of 780 Merino wether lambs weighing 39kg lwt at Quilpie in Queensland made $112.
The average price for the 5132 Merino ewe lambs offered increased $59 to $138, the largest increase among the lamb categories. At Lameroo in South Australia, 110 ewe lambs weighing 30kg lwt made $153.
There was a drop in rthe number of first cross ewe lambs offered to 3567 head. The categoray averaged $188, back $1, and the clearance rate was subdued at 33pc by late Thursday. At Cumnock in NSW, 240 first cross ewe lambs weighing 53kg lwt made the top price of $250.
Post-sale negotiations also improved clearance rates in the joined ewe categories. The 10,772 scanned in-lamb Merino ewes was the largest sale category last week, and after the post-sale negotiations lifted the cleraranc erate from 47pc ot 52pc, the average price was $221, up $12. At Stawell in Victoria, a line of four year-old ewes weighing 65kg lwt and SIL to White Suffolk rams sold for $266.
Only 39pcof the 5133 scanned in-lamb first cross ewes sold, for an average price of $254, back $34. A line of 338 five year-old first cross ewes weighing 76kg lwt and SIL to Poll Dorset rams at Bathurst, NSW, made $270.
The 2281 scanned in-lamb shedding breed ewes registered the highest clearance rate across the joined ewe categories of 91pc by late Thursday, up from 86pc immediately after Tuesday's sales. At Thallon in Queensland, 169 2-5 year-old White Dorper ewes weighing 65kg lwt and SIL to White Dorper rams sold for $232.
AuctionsPlus sold 71pc of the 1771 unjoined Merino ewe hoggets offered for an average price of $200, up $17. However, only 31 pc of the 1821 shedding breed ewes offered sold, for an average price of $347, up $26. Price for Merino ewes and composite/other breed ewes dropped. At Jamestown in South Australia, 175 12-13 month-old Poll Merino ewe hoggets weighing 53kg lwt made $237.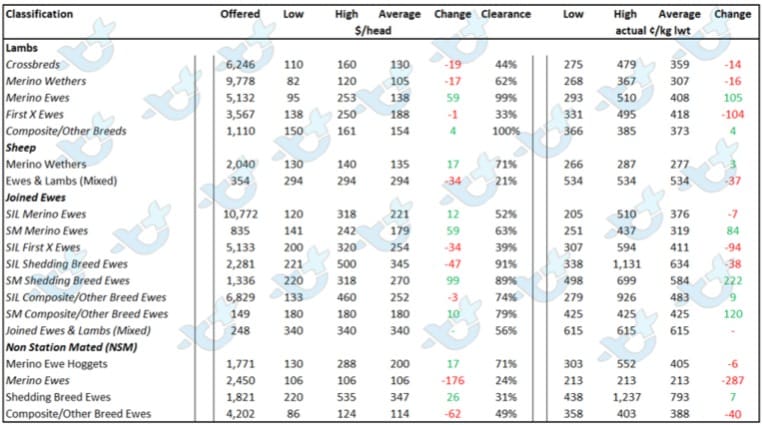 Source: AuctionsPlus.