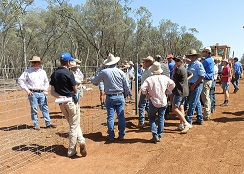 CLUSTER fencing funding has helped double Queensland's sheep numbers in the past five year, Queensland Premier Annastacia Palaszczuk said this week.
Ms Palaszczuk and Minister for Agricultural Industry Development and Fisheries and Minister for Rural Communities Mark Furner this week announced a further $5 million in funding for cluster fencing funding in several Queensland municipalities.
Even more sheep producers in drought affected areas will be able to combat the scourge of feral pests with the Premier today announcing the recipients of $5 million in funding as part of the State's economic recovery.
While visiting Barcaldine and Longreach this week, Ms Palaszczuk said five western regional councils and RAPAD would share in the multi-million dollar funding boost for projects to construct more cluster fencing to keep wild dogs out.
The premier said the project funding was being delivered under the Queensland Feral Pest Initiative and would go to:
RAPAD (Remote Area Planning and Development Board)
Goondiwindi Regional Council
Western Downs Regional Council
Paroo Shire Council
Murweh Shire Council
Balonne Shire Council
"Not only will this money help producers reduce the impact of feral pests, it will have the added bonus of creating another 55 jobs in the regions underpinning Queensland's economic recovery,"
"This is about the return of the sheep industry in Queensland, it's about supporting our regions and it's about supporting Queensland jobs," Ms Palaszczuk said.
The Premier said her government's cluster fencing program to date has been incredibly successful.
"It was about six years ago that I sat down with graziers outside Charleville and Longreach and they talked to me about ways in which we could assist by putting place cluster fencing to keep out the wild dogs and bring back the sheep industry in Queensland.
"My government has now committed nearly $25 million over five years to support the construction of cluster fencing and to control invasive plants and animals," she said.
"This has led to more than 7000km of cluster fencing being erected, protecting 400 sheep-producing properties and doubling sheep numbers to 720,000 head.
"Lambing rates have also increased 75 per cent because of cluster fencing."
The Queensland premier said the state's sheep industry is staging a great comeback "and we are standing shoulder to shoulder with them."
Minister for Agricultural Industry Development and Fisheries and Minister for Rural Communities Mark Furner said the latest allocations targeted drought-affected sheep and wool producing areas, with the goal of bringing large numbers of sheep back to these areas.
"The money will support cluster fencing arrangements in drought affected areas, including projects that complement existing activities, support the concept of shared responsibility and enhanced capability, awareness and accountability for longer term management," he said.
"Construction will support councils and landholders in creating regional jobs.
"Under previous rounds, we have seen thousands of kilometres of protective fencing built around hundreds of sheep properties and lambing rates increasing."
Further to the $24.74 million committed under the Queensland Feral Pest Initiative, the Palaszczuk Government has also made loans of $18 million to Longreach Regional Council to construct 2500km of fencing and $8 million to Balonne Regional Council.
The $15 million in Sustainability Loans for wild dog exclusion fencing have also been processed by the Queensland Rural Industry Development Authority (QRIDA), bringing total Queensland Government investment in cluster fencing to more than $55 million.
The Palaszczuk Government's investment has been complemented by a $14 million investment from the Federal Government.