CLEARANCE rates improved for commercial sheep and lamb listings on AuctionsPlus last week, with the national offering consistent week-on-week at 88,716 head.
AuctionsPlus said the overall clearance rate lifted 15 percent, while value over reserve was flat and average prices were generally mixed.
This suggests vendors may have adjusted their expectations in response to the end of three consecutive La Ninas and the 'watch' status for an El Nino, setting reserves lower to meet the market, the online marketplace said.
Clearance rates were generally higher for joined ewes and lambs, but fell for unjoined sheep. Sheep and lambs swapped places this week with lamb categories flat or better, AuctionsPlus said. Prices across most sheep categories averaged lower, with scanned in-lamb categories losing all last week's gains.
The number of crossbred lambs offered dropped to 16,068 head, with the average price dropping $2 to $106, for a 59pc clearance rate, up from 46pc at the immediate close of auctions. At Dalgety in New South Wales, 500 September/October 2022 drop mixed sex Poll Dorset cross store lambs weighing 35kg lwt sold for $115, $20 over the reserve price.
The Merino wether lamb offering dropped to 6727 head and averaged $78, up $7, for a 76pc clearance. At Dirranbandi in Queensland, 450 September/October 2022 drop Merino wether lambs weighing 30kg lwt made $75, or 247c/kg lwt.
AuctionsPlus sold 66pc of the 13,614 scanned in-lamb Merino ewes for an average of $114, down $47. The clearance rate before post-sale negotiations was 39pc. At Winchelsea in Victoria, 370 rising seven year-old scanned in-lamb Poll Merino ewes weighing 51kg lwt sold for $90.
AuctionsPlus sold 74pc of the 3852 scanned in-lamb first cross ewes offered, up from 54pc at the immediate close of auctions. The average price dropped $40 from the previous week to $172. At Eubalong in NSW, 136 2-3 year-old scanned in-lamb first cross ewes weighing 81kg lwt made $210.
Note: Prices as at 5pm Thursday, 23rd March 2023.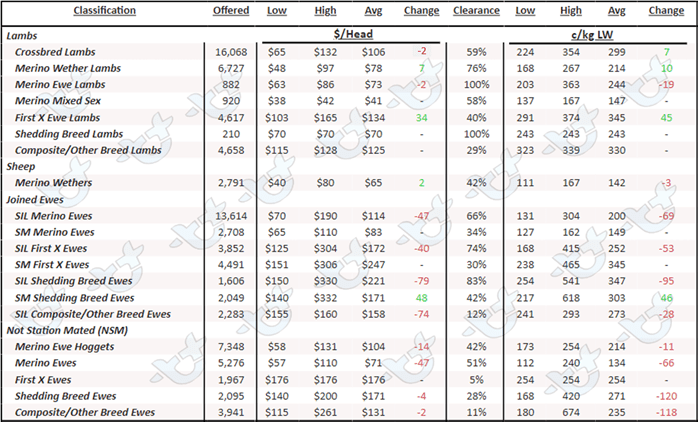 Source – AuctionsPlus.