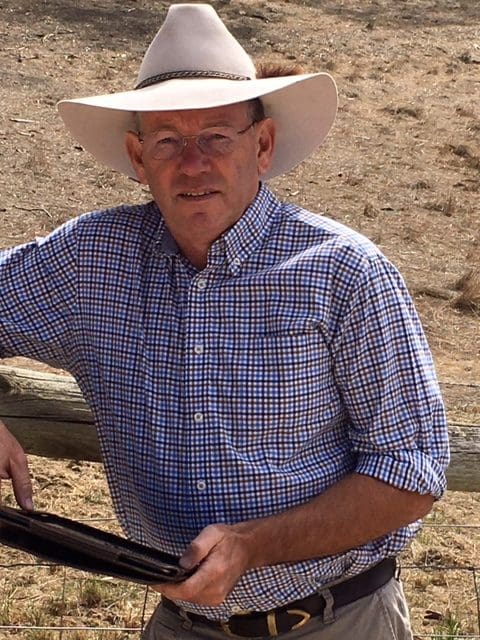 Chris Howie offers his perspective on southern livestock market trends, drawing from both his own observations and from a wide contact network of producers, agents, processors, industry associates and leaders developed during his extensive career as a livestock agent. Chris is Stockco's Business Development Manager.
Forward contract lambs vs saleyard prices
There are still a considerable number of forward contract lambs in the system that are causing a few discussions because of the price difference to the spot saleyard market. It is always a difficult discussion when this happens, but if the price had gone down would the chatter be the same? Concentrating on the livestock production protocols to create more weight should be the focus.
I caught up with Richard Harvey from PPHS at Naracoorte. Saleyard lambs are sitting at $7.20 – $8.00 with hooks pricing ranging from $7 – $7.60 depending on type and weight. The Keith breeders sale went off very well and was entirely on AuctionsPlus for the first time. The best Merinos topped at $345 but plenty of quality ewes over $300. Mutton prices are very close behind lamb and ranging from $5.50 – $6.50 dollars OTH. One of Richards clients sold lambs at $196 and their mums came back at $201. Not a bad day out.
Naracoorte 1st cross ewes sales are fast approaching. With the recent result at Corowa reaching $410 it will be interesting to see what happens. The 1.5year sale will yard 18 – 20,000 on November 12th followed by 28 – 30,000 ewe lambs on the November 19th. These are the premier 1st cross sales and the season will see many of the ewes at ideal joining weight.
The grass keeps growing
We are starting to see weight gains fall yet there is abundant feed, how can this be possible? Rob Inglis, Elders Livestock production manager, explained that due to the bulk of feed the sugars are now locked in the indigestible fibre. In short lambs and young cattle cannot fit enough grass into their stomach. This limits the amount of energy that can be absorbed so limiting weight gain.
The provision of a loose lick or providing some grain will help convert this bulky indigestible feed and reactivate weight gain. It is worthwhile having a chat to your local advisors to best utilise feed and continue to create positive weight gains as well as avoiding other animal health conditions.
Simple preventative animal health is a good idea considering the value of livestock. Not often the amount of feed available is a reason for concern. However, several issues are appearing. Often problems are mis diagnosed and not acted upon correctly – one example is bloat being blamed as the cause of death when it is actually pulpy kidney. How can you tell the difference when you lose stock? In most instances bloated stock will lie on their right hand side and pulpy kidney will lie on their left hand side. This is because the animal is trying to lie away from the discomfort.
In feed years such as we have now livestock should be vaccinated every 12 weeks for pulpy kidney. There is likely to be a lot of grain in stubbles also. Leading on from this Rob has highlighted several animal health issues that we should be looking for.
NSW
I took a run through Western and Southern NSW at the start of the month.
From Olary in SA all the way to Wagga the feed and crops were incredible. White Cliffs is looking fantastic whilst the country around Jerilderie is in good heart but a little behind the other areas. Many contract headers on the move and the prices on second hand harvest equipment has jumped significantly.
One agent's client has been offered more on a second hand header than he paid for it new 8 years ago. Scott Hamilton from Hamilton Mortimer Agency at Narrabri said some crops towards Walgett have been yielding 5 tonne to the hectare.
It is disappointing a significant amount of hay and crop in SA, NSW and Victoria has been damaged with continued rain. This damage may provide an opportunity for those with their own livestock on hand. The ability to utilise the 'create more weight' facility or similar product will allow producers to hold livestock to utilise this feed yet meet their financial commitments pre harvest.
Make sure you get a feed test on your weather affected hay. One producer was told his hay was not wanted only to be rang a week later and offered a significant rate on the back of the test.
Training
Training across the agricultural industries has had a boost with some of the state and federal initiatives being offered to help revive the economy. As an employer it is very worthwhile investigating eligibility for your business prior to starting new staff.
Speaking to Adam Mountjoy, South East Region Livestock Lead for Nutrien it is very positive to see Nutrien have Livestock traineeship positions advertised across various branches. With school leavers appearing it is a great time to interview new staff who are keen for a start.
The Cert 4, Agriculture agency training program at Wodonga TAFE has been revamped to meet the COVID restrictions.
Simone Dand is the course coordinator and said they have started with smaller zoom modules to get groups running. When restrictions lift the planned workshops will recommence combining groups.
I spent 2 days at the Livestock Collective future leaders course in Adelaide. The course was based on helping young and new entrants to agriculture become more effective advocates for industry. The concept is very good and creating a united voice for many of the livestock industry sectors.  Looking at the support behind it with some fine tuning I think they may be on a winner.
Jock Gosse, National sales director for FarmGate Auctions also attended. It is great to see the results being achieved by Farmgate with 27 auctions to date. All auctions held in October had a duration of under an hour – driving atmosphere & buyer energy with over 175 cattle buyers and 190 sheep buyers participating on each sale.
It is amazing how willing agents and other industry participants are to help train new starters when given the opportunity. Irrespective of the company or shirt colour they all focus on helping the next generation learn the tricks of the trade.
Job interview tips: Having conducted 100's of interviews for aspiring stock agents here are a couple of tips when applying for an Agency role.
Do some home work on the potential employer – what does their business do?
Understand the livestock sales process – agents give advice and prepare livestock for sale, zoos cuddle them.
Dress for the interview as though you want the job – hair done, ironed shirt, polished boots, minimal makeup
Tell the interviewer what your goal is – if you don't have one no one can help you.
Sheep and live export
Dean Hubbard, WA livestock manager for Elders, said sheep live export has only seen two ships since the reopening.
This is putting numbers back into the grazier system with an impact on mutton and 2 & 4 tooth wether prices. The support from the East has been excellent and seems to be providing WA producers with a destination at reasonable rates considering freight. Leading into summer stock water in some areas such as the Great Southern seems to be the main concern. Availability of shearers is an issue in the West like other states.
John Lindsay from Carter Lindsay Webber in Dubbo says the sheep demand is extreme with plenty of demand for first cross and Merino ewes. Significant numbers are still arriving from WA right through NSW. Building up breeding flocks to create cash flow faster than cattle seems to be a focus of many producers.
The Jamestown October sale interfaced with Auctions Plus again. 1.5 year ewes topped at $361 with overall prices reflecting recent sales and opportunities still appearing to buy quality ewes under $300. Older ewes were all keenly sought in the mid $200's. Shorn wether lambs ranged around $130 – $160 showing the keen interest for lambs that do not require shearing. Most weighed between 38 – 51kg lwt.
It has become apparent shearers are difficult to find which is causing those with woolly lambs some concern. However, if you can get the wool off the trades are still looking positive with an extended green spring. Demand for 30 – 40 kilo lwt lambs is coming from both graziers and processors with plenty making $135 – $150 or $3.20 – $3.70 liveweight.
Even though many lambs were sold as stores in August and early September at some point we will see a run of lambs appear that may put some pressure on the market. November is still my pick once the sun comes out. Sounds like some significant lambs numbers already booked for yards this week. May test the market.
Anyone treating for fly make sure you look at the WHP and ESI time frames. Many times, a lamb trade has been impacted by an extended ESI which means you cannot sell the lambs for slaughter.
Cattle
There is a lot of discussion about the cattle market "why it is holding up so well."
The only reasons I can see is availability of grass and restocking. However whispered signs of slaughter prices easing are just starting to be heard. Nothing substantial yet but normally the first breeze is in front of the wind of change. I am a great believer in taking the win but I would suggest investing some time and thought about your end game on trades is very worthwhile about now.
The quality cow market is booming for PTIC & Units between $2500 – $4000. Slaughter cattle are providing returns with hooks rates for cows ranging from $5.60 – $6.00. PTIC 2nd calf Hereford heifers purchased for $1400 5 months ago and calved down returned $2860 last week. Heavy steers purchased for $1650, again 5 months ago delivered to feedlot at $2270.
The rank feed as mentioned earlier is affecting performance when trying to finish cattle. It seems the normal run of grass heifers is still yet to appear with many not quite finished. These prices make a very compelling argument to sell now, I think.
When the wool market was at 2100 cents very few took a forward position because they thought the market would continue to rise. At the current cattle levels I would be considering offering a forward supply position if you have reasonable numbers. Often the early movers will benefit from doing this as once we see a negative price movement, I think it will be very hard to chase the price down. In the past when this has happened feedlots go from being short on supply to a 4 week waiting list in a matter of hours.
John Lindsay from Carter Lindsay Webber, Dubbo commented on the significant rains through central NSW which is a concern for the croppers but continues to freshen pasture. Best cows topped at $3.20 per kg lwt in recent Dubbo sales with the processor demand starting to move from Southern to Northern competition.  Cattle trading opportunities are still being found and many are looking to utilise the abundant pasture and stubble feed. Finding the cattle is the difficult part now. John's thoughts about light cattle prices mirror mine – how much is enough for a 200kg calf?
Maybe this is the year to keep your best steers or heifers instead of selling as weaners and turn them into feeders, bullocks or PTIC? With weaner sales approaching planning early will ensure you have feed set to do a job on them. Often producers keep the tail back and spend their best feed trying to turn them into tops. At current small cattle values why not sell them, cash flow the tops and do a really good job faster?
NZ live export – Following the loss of the Livestock export vessel, Gulf Livestock 1 on the 2nd September the New Zealand government initiated an inquiry – Beef Central article.. The speed with which NZ have released recommendations is quite staggering. Not only the speed but the common sense approach and reasoning behind the recommendations makes me wonder why things take so long in Australia. Maybe because the Ex NZ Naval officer in control brought military rigor to the process away from fluffy bureaucracy.
Opportunities
Putting mutton away for Feb / March – ewes and wethers
Grabbing some forward contracts on cattle
Keeping the best of the drop and doing a job on them.
Think about animal health and grass conversion
Investigate employee incentives and training
Cashflow livestock to utilise feed.