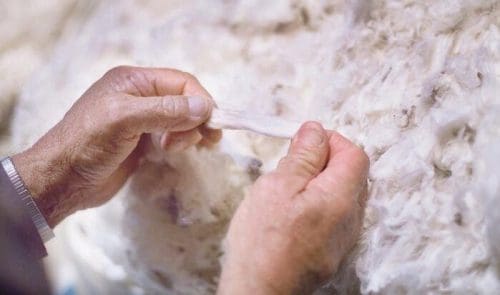 AUSTRALIAN wool prices lifted in auctions this week, largely driven by impromptu demand to supply a Chinese railway uniform order.
The Australian Wool Exchange said the market rose strongly this week over both selling days.
"The AWEX Eastern Market Indicator closed the week 23 cents higher at 1151 cents, its highest level in three months.
"The majority of the rises were recorded on the first day when individual Micron Price Guides (MPGs) for merino fleece gained between 10 and 41 cents across the country," AWEX said.
"The AWEX Eastern Market Indicator (EMI) added 19 cents for the day which was the largest single-day rise since July.
"The gain in the EMI was driven by Merino Fleece types while a softer crossbred market prevented the EMI from posting an even larger rise," AWEX said.
"Foreign exchange rates were dominated on Tuesday night by US CPI data which pushed the Australian dollar (AUD) through the US 65 cent level.
"A strengthening dollar can put pressure on the market as exporter purchases become more expensive in US dollar terms," AWEX said.
"Whilst the market did open up hesitantly on Wednesday it gathered momentum over the course of the day and added another 4 cents to the AWEX-EMI.
"At the close of the week Merino Fleece types were generally 30 to 50 cents higher."
AWEX said Merino skirtings followed a similar trend with solid gains in the finer microns. Crossbreds and carding types tracked sideways, closing at little change for the week.
Next week's offering is forecast to increase to just under 46,000 bales for Melbourne, Fremantle and Sydney combined.
Endeavour Wool Exports trading manager Josh Lamb said previous uniform orders had not had a similar effect on the market, but the latest order came "out of the blue" and some mills needed to renew stock levels, leading to a spike in the market.
However, Mr Lamb said it is not known whether the market could sustain the price lift.
"We need something more behind it than just that order to push the market to another level and for it to hold.
"Any lift is a good lift, but we just haven't been able to sustain any of these rises over the last couple of months, so it remains to be seen if we can hold this one."
Fox and Lillie brokerage manager Eamon Timms said the prices were also helped by cold weather hitting China last week, lifting retail knitwear sales.
"Some of the domestic users in China are a bit more interested than they have been for many many months.
"It seems to be a coalescence of a number of factors."
Source – AWEX.