MORE than 90 percent of Australian wool exported in April went to China as the COVID-19 pandemic hit other countries, the latest export statistics show.
Executive director of the Australian Council of Wool Exporters and Processors Peter Morgan said April is the first month that Australian Bureau of Statistics data has reflected the impact of COVID-19 on demand for Australia's wool exports.
In particular, the ABS figures highlight the importance of China to the Australian industry, Dr Morgan said, with China's share of Australian exports increasing to 93 percent in April, despite dropping 7.1pc by volume compared to shipments in the same month last year.
As can be seen in the table below, Dr Morgan said, apart from China, there were significant year-to-year reductions in the volumes and percentage share of wool that went to the major destination countries for Australian wool in April.
"The reductions in the volume of wool going wool to these countries was largely made up for by China's share of Australia's wool exports going from 76pc in the July to March period to 93pc in April."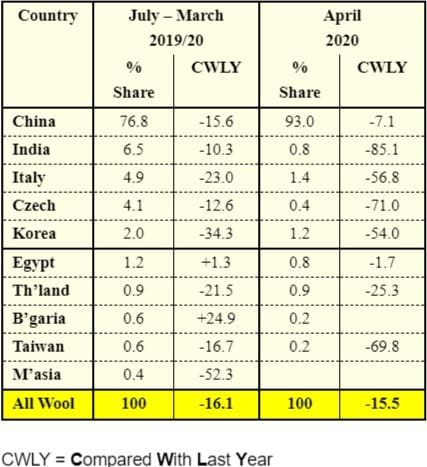 Global wool industry recovery starting
Dr Morgan said Australia exported wool to 16 countries in April 2020, compared with 20 countries in the same month last year.
He said the post-COVID-19 recovery is expected to occur in countries as their industries and the global demand for wool products progressively return to normal.
"Italy began on that path in May.
"Advice was received from India last month that they were to start moving in this direction from the end of May," he said.
"However, more recent advice is that 'Lockdown No.5 has been extended up to 30th June 2020', Dr Morgan said.
"This advice also lists some restrictions that will remain in place, but states that all factories will be allowed to open then."
Dr Morgan said he had no advice on the status of the South Korean and Czechovalkian industries.
Australian wool exports declining in value and volume
In his latest newsletter, National Council of Wool Selling Brokers of Australia executive director Chris Wilcox said the April data showed the impact of the extensive lockdowns imposed around the world in response to the global spread of COVID-19.
"As a result, there was a large drop in exports to a number of the major destination countries in April.
"Overall, the weight of wool exported fell by 16pc year-on-year, while the value of exports was down by 37pc.
"Exports to the largest destination, China, was down by only 7pc in weight terms, but was 31pc lower in value terms," he said.
"However, it was exports to countries in some of the other major destinations in Europe and Asia that saw the largest declines."
Mr Wilcox said obviously, there is no sign of a turnaround in the decline in wool exports seen over the past 18 months, particularly in A$ or in US$. In his newsletter's second Chart of the Week, Mr Wilcox showed the long-term trends in the weight and value of Australian wool exports (on a 12-month moving aggregate basis).
"It shows that after peaking in the second half of 2018, the value and volume of exports has been on a steep decline."