ONLY a few sheep and lamb categories lifted in price as commercial listings on online marketplace AuctionsPlus decreased 36 percent to 34,679 head last week.
AuctionsPlus said the market continues to bump through a series of shorter weeks due to public holidays, restricting the ability to draw clear conclusions on market changes.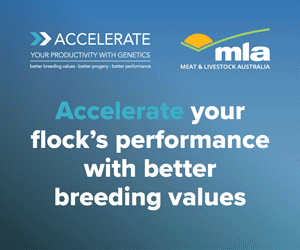 The overall online clearance rate fell to 45 percent while the value over reserve slipped to $7 this week. The next 2-3 full weeks will be an important period to gauge the direction of the market for the rest of the year, AuctionsPlus said.
AuctionsPlus sold 73pc of the 4383 crossbred lambs offered for an average of $123, up $12 on the previous week. Per kilogram prices ranged from 298-367 cents and averaged 325c/kg lwt. At Breakaway Creek in Victoria, 635 July/August 2022 drop mixed sex Poll Dorset cross store lambs weighing 41kg sold for $134, or 329c/kg lwt.
Just over half (51pc) of the 5807 Merino wether lambs offered were sold, for an average price of $78, down $4. Per kilogram prices ranged from 164-271 cents and averaged 213c/kg lwt. At Goodooga in New South Wales, 890 September/October 2022 drop Merino store wether lambs weighing 36kg made $75, or 211c/kg lwt.
Only half (49pc) of the 3948 scanned in-lamb Merino ewes sold, for an average price of $142, down $10. At Yacka in South Australia, 270 19-21 month-old Merino ewes scanned in-lamb to Suffolk rams and weighing 46kg sold for $162.
AcutionsPlus achieved a 57pc clearance of the 1364 scanned in-lamb composite/other breed ewes offered. They averaged $167, down $20. At Harrow in Victoria, 250 20-22 month-old composite ewes scanned in-lamb to maternal composite rams and weighing 67kg made $170.
Note: Prices as at 5pm Thursday, 27th April 2023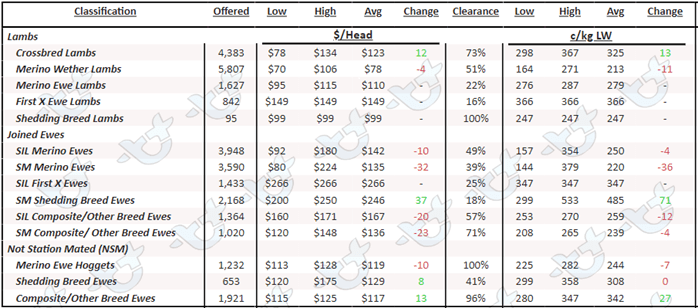 Source – AuctionsPlus.