SECTORS of Australia's lamb exports in some countries depend on the popularity of just one single dish – and that can be dangerous.
Meat and Livestock Australia's area manager for Japan and Korea, Andrew Cox knows this all too well, given two of his key markets are based on specific uses for lamb.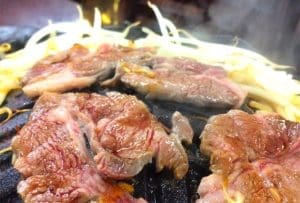 In Japan, it is Genghis Khan barbecue, a marinated grilled mutton dish cooked at the table, eaten mainly around Hokkaido. The name is said to be based on the domed shape of the metal barbecue plate, said to resemble Genghis Khan's helmet.
Japan imported about 13,222 tonnes of sheepmeat from Australia last year.
Mr Cox said 80 percent of Australia's lamb trade into Japan went specifically to preparing this dish.
But he said it was important to expand beyond this, and felt there were opportunities in a market he described as "sustainable but underdone."
He said there should be opportunities especially in Tokyo with its population of 32 million and its global food scene.
"It is important to look at future strategies, especially leading up to the 2020 Olympics and given tourism has tripled in the past five years."
Mr Cox said lamb was "in the dog house" in the fallout from outbreaks of BSE in the United States, and then there was a part of the population that associated lamb with the Ghengis Khan dish and therefore "not sophisticated".
But he said there was a revival of lamb, especially in the food service industry, even though sales of lamb at retail level were still small.
"We are seeing lamb being presented in the premium protein section in some supermarkets," he said.
South Korea is another market which has grown dramatically and Mr Cox said the growth from virtually nothing to taking about 10,000 tonnes of sheepmeat last year was very exciting.
But he cautioned the industry needed to work hard to maintain this and that the use of lamb was not seen as a fad.
Last year, Australia sent 10,600t of sheepmeat to Korea – 68pc of which was frozen lamb, 17pc chilled lamb and 15pc frozen mutton.
Much of the product is being used to produce Chinese skewers, as well as a growth in popularity in Japanese Genghis Khan restaurants in Korea. There are an estimated 3000 yakiniku (skewer) restaurants in Korea.
But Mr Cox warned if lamb was only aligned with a particular trend, "there could be trouble".
He gave the example of a political issue over a defensive missile program, which saw Korean consumers kick back against supporting Chinese products. Korean consumers have traditionally pared lamb skewers with Chinese beer, and so there could be fallout from this for Australian lamb if they stop buying both.
"We are working hard to try to expand our markets for lamb and see potential in the hotel sector which offers western dining, and we will leverage off what we have achieved with beef," Mr Cox said.
"Korea is an exciting market for lamb, but there are some markets that are fads and we need to do the best we can to make sure Korea is not one of these for sheepmeat."