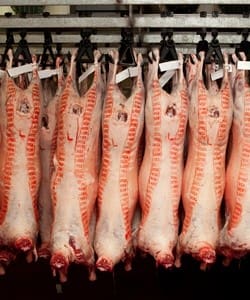 AUSTRALIA could have a new competitor for the American lamb consumer dollar next year, if British plans are successful.
The US Department of Agriculture (USDA) has published proposals for consultation to relax import restrictions on British lamb that could generate an extra £35 million for the UK economy.
The importation of UK beef and lamb was banned following the outbreak of BSE or mad cow disease in the UK in the late 1980s. Restrictions on beef were lifted in 2014. UK lamb imports are not expected to resume until after US inspectors visit to British sheep and cattle farms later this year.
UK Farming Minister George Eustice has announced that the mission to get British lamb chops back onto American dinner plates has moved a step nearer. At the opening of the flagship National Sheep Association (NSA) show in Malvern, Worcestershire this week, he confirmed the proposals for consultation to relax import restrictions on lamb meant that British lamb is on track to be available for US consumers by early 2017.
The move is the latest in ongoing efforts to allow Britain's farmers to start exporting sheep meat to the United States' 300 million consumers. A 1000-page dossier has been submitted to the USDA detailing the safety and quality of British beef and lamb ahead of April's trade talks with US Secretary of Agriculture Tom Vilsack in Washington.
Mr Eustice said the US decision to press ahead with proposals to lift export restrictions on British lamb is great news for the country's farmers.
"Our world-leading food and drink industry is a key part of our nation's economic success and in addition to forging good trade deals with our European neighbours, we want to secure more export opportunities in the United States as well as with our close friends in the Commonwealth and other countries around the world," he said.
The UK's Department of Environment, Food and Rural Affairs is co-ordinating UK farming industry comment for the 60-day consultation and liaising with relevant US trade associations to gain support for proposals.
NSA chief executive Phil Stocker said increasing the number of export destinations for British sheep meat is vital to the industry.
"It is very encouraging that the USA is interested in opening its doors.
"Lamb sales in the USA have dropped over the years, as a result of a falling domestic production base, and NSA would like to see British lamb exported and promoted to boost consumption. It could be a real opportunity for our sector."
NFU livestock board chairman Charles Sercombe said re-opening the US beef and lamb market to UK imports would be a positive move and an important confidence building measure for the British livestock sector.
"The US is potentially a huge and affluent market that has strong links to the UK as we share history and language."
In 2015, Australia exported 49,904 tonnes of lamb to the US, the largest calendar year volume on record. Australia had exported 24,205 tonnes of lamb to the US up to the end of May this year, Meat & Livestock Australia said.